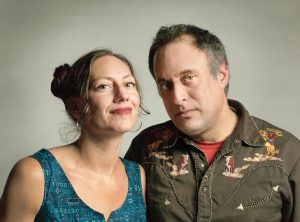 Ω▽(OHMSLICE)
comes together at the fertile crossroads of ambient electronica, jazz, poetry, distortion, tribal rhythms and spontaneous composition.
The band is formed around multi-instrumentalist and instrument inventor
 Bradford Reed
's (
King Missile
 III, creator of the
 pencilina
) experiments in processing percussion through a modular synth. Layered over a sonic framework of double-drummed syncopated rhythms of analog pulses and drones, are the sultry vocals and driving, often abstract lyrics of poet 
Jane LeCroy
 (Sister Spit, Poetry Brothel).  Joined by a rotating crew of collaborators including: 
Josh Matthews
 (Drumhead, 
Blue Man Group
) on drums, the legendary and ubiquitous 
Daniel Carter (Thurston Moore, Yo La Tengo) 
on trumpet and saxophones and 
Bill Bronson
 (
Swans, The Spitters, The Gunga Den, Congo Norvell
) on guitar.  Ω▽(OHMSLICE) combines formal structures and heavy grooves with a sonic meditation on the nature of human-electronic improvisation.
Ω▽(OHMSLICE) formed in 2015 when Reed and LeCroy — longtime fans of each other's work — came together at a psychedelic summer camp for radical artists.  There, the two joined for an unplanned set and realized the creative potential in the unique symbiosis of LeCroy's vocals with Reed's sonic textures. LeCroy emerged from New York's Nuyorican spoken-word scene in the 90's and was nurtured by be-bop and free jazz musicians that transformed her poetry into a brave musicianship.  Reed has spent decades in NYC's downtown music scene as both a collaborator and producer for a range of pop and avant-garde projects; as a solo artist Reed has toured the world with his self-invented Pencillina.
For Ω▽(OHMSLICE), Reed draws inspiration from the mysterious sounds of pioneering synthesists and electro-acoustic composers, such as John Hassel and Morton Subotnick. With the same ingenuity he displayed in creating the Pencillina, Reed created a unique hybrid of modular synthesizer and percussion (a single tom tom and 40 year old 17 gallon water can).  With this tool, Ω▽(OHMSLICE) captures the improbable (and almost human) spontaneity of analog equipment delivering an ever-shifting and variably uncontrollable sonic palette. This utterly unique vibe is the ultimate sparring partner for LeCroy's improvised vocals, which can turn dreamy or didactic within the space of a shifting note. Often interwoven into this mix, are Carter's effortless jazz fluidity, Bronson's delicately focused grit and Matthews' exquisite rhythmic sensibilities. In this dance of improvisation, chaos hangs right on the edge of order and no Ω▽(OHMSLICE) piece can ever be duplicated.
The Ω▽(OHMSLICE) debut, "Conduit", was recorded live over a two-year period. The album is an organized documentation of spontaneous creation and exploration; it moves from the fuzzed-out psychedelic of "Crying on a Train" to the meditative ambient cycles of "Broken Phase Candy" and beyond.  Within this realm, the listener is meticulously guided through beautiful harmonic and rhythmic phase mosaics, and held captive by an innovative and violently unquantized approach to groove based electronic music. Combined with LeCroy's visionary mixture of philosophy, reflection, language and song, "Conduit" illuminates a path to a rare and alluring space that reveals endless layers with each new listen.