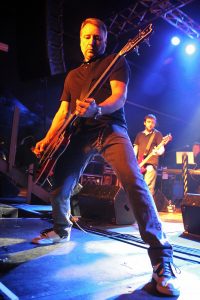 May 5th sees the worldwide CD and digital release of four stunning live albums recorded by legendary Joy Division/New Order bass player Peter Hook and his band, The Light, via Westworld Recordings.  All four albums are to be released as strictly limited edition colour deluxe vinyl versions for Record Store Day 2017, April 22nd as well on the Let Them Eat Vinyl label. Each title features Peter Hook and The Light performing a classic Joy Division or New Order album in its entirety and in sequence, supplemented by songs that were not on those albums: singles, demos and other rarities.  Peter Hook & The Light have some U.S. dates scheduled for April.
Hook and company's performance of Joy Division's Unknown Pleasure was captured at Leeds' Cockpit, November 29, 2012. The original album track list was expanded with thunderous versions of the "Transmission" and "Love Will Tear Us Apart" singles, numbers from early recording sessions, and "Ceremony," a composition the band never recorded with lead singer Ian Curtis. Hook and The Light's rendering of Closer was documented at The Factory in Peter and Joy Division's hometown of Manchester, May 18, 2011. Besides the studio album's repertoire Peter and his group turned in powerful performances of a wealth of material recorded and released as one-off singles like "Dead Souls," or on compilations or even as flexi discs during the era of Closer's initial release. Both live albums are 2xCD sets.
The live celebration of Movement, the first studio set the former Joy Division members did as New Order, took place November 22, 2013 at The Academy in Dublin. Titles from the original album were joined by selections from early New Order singles like "Cries And Whispers" and "Procession" and fan favorites. Hook and The Light's take on New Order's next release, the much-vaunted Power, Corruption & Lies was recorded on the same occasion as Movement.  The original album's running order was supplemented by more cuts from non-album singles. These live albums are both issued as single CDs.
Peter Hook and The Light were formed in May 2010 by the bassist. Their line-up also features Hook's son Jack Bates (bass), as well as David Potts (Guitar), Andy Poole (keyboards) and Paul Kehoe (drums), who both played with Hook as part of Monaco, one of his previous groups. Since their inception, they've garnered considerable media accolades:
"Peter Hook & The Light have developed into a well-oiled machine that – whisper it – actually deliver these songs better than the current line-up of New Order….they've become an impressive tour de force more than worthy of associating themselves with arguably two of the finest back catalogues in rock and roll history."  Drowned In Sound
"This is New Order reinvigorated, reenergized; Hooky has arguably reclaimed the songs and is delivering them with heart and soul." Louder Than War
"By focusing solely on the music, and allowing the songs inherent structure to do the heavy lifting instead of blowing them up into pseudo-stadium cuts, their inherent virtues were that much more apparent. Frankly, these songs rock…..This is Peter Hook and his band taking a chance, dusting off wrongly ignored tunes, and kicking ass." Punk News
The audio quality on all these recordings is excellent throughout and coupled with the top- notch musicianship and evident passion of Peter and the band all four releases will be indispensable to any fan of these two iconic bands. If, like many of today's Joy Division and New Order fans, you were too young to have seen the former live or the latter's original line-up, Peter Hook and The Light is as close to the real thing as you can get.
http://peterhook.get-ctrl.com/#/home
https://www.facebook.com/peterhookandthelight/
twitter: @Peterhook
https://www.facebook.com/peterhookFAC51
Peter Hook & The Light U.S. Dates:
April 28th – Berkeley, CA  The UC Theater  (The Light – Substance)
April 29th – Denver, CO  (The Light – Substance)
April 30th  – Fortress Festival, Fort Worth, TX  (The Light – Hybrid Set)