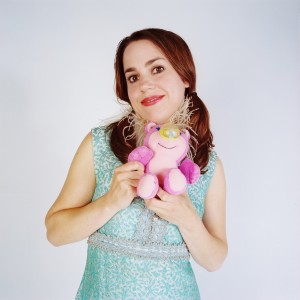 As a singer, instrumentalist and composer, Haden has built an impressively varied and accomplished discography encompassing her work as part of the alt-rock quartet That Dog and collaborations with a broad array of acts. She has a series of her own releases, which often showcase her unique talent for constructing complex, evocative A-cappella arrangements by inventively layering multiple tracks of her own voice.
As one of the triplet daughters of the late, legendary jazz bassist and composer Charlie Haden, Petra grew up around music and learned about harmony at a very young age. She started learning how to harmonize by singing with her sisters Rachel and Tanya. It wasn't until she saw street performers playing that 8-year old Petra actually decided to become a musician herself. She began taking lessons on violin, as did Rachel with piano and Tanya with the cello. Petra's one brother, Josh grew up a musician as well and went on to lead the group, Spain.
Her early fascination with the violin and other instruments led her to develop an uncanny ability to use her voice to recreate the sounds of the instruments she heard, and to develop elaborate pop, jazz, blues and classical arrangements based on those sounds. It was one of her favorite minimalist composers, Steve Reich, who's repetitive, heartbeat-like compositions, served as a primary influence on the songs she would eventually write for her first solo album, Imaginaryland. On the album originally released in 1996 on WIN records, she introduced a new phase of her career by overdubbing wordless a cappella adventures into pop soundscapes creating original compositions as well as covers of Enya and Bach. Hers is a unique vision and a unique voice that takes you to a land filled with cartwheels, tingly mint tea and razzle-dazzle raspberry twigs.
The inspiration for her sophomore effort Petra Haden Sings: The Who Sell Out came from her friend Mike Watt of MINUTEMEN who gave her a TASCAM 488 Portastudio 8-track cassette recorder with the original Who album on one track and the other seven empty, for her to fill with intricate vocal harmonies. Not only did Petra re-imagine all The Who's singing and instrumental parts – including drums – she also tackled all the interstitial mock radio commercials so integral to the original The Who Sell Out experience. The final result is a technical tour de force that also invites a fuller appreciation of The Who's own achievement, bringing to the fore all the original elements of chorale music, vaudevillian schmaltz and Renaissance chamber ensemble playing.
"I was a little embarrassed to realize I was enjoying my own music so much, for in a way it was like hearing it for the first time…I love this …. She's so smart, because she listened first to what was on the original record before she started her own thesis with it. That is such a gift for one musician to give another – to really listen…" Pete Townshend on Petra Haden Sings The Who Sell Out.