R. Stevie Moore/Jason Falkner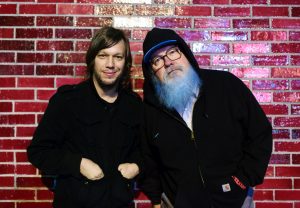 In a partnership with Lost Colony Music, Bar None Records is releasing the improbable-in-concept yet perfect-in-practice collaboration between lo-fi music pioneer R. Stevie Moore & power pop icon Jason Falkner. Make It Be will be released on Friday, March 10, 2017. The majority of songs were composed by Moore with one Falkner composition, a Roger Ferguson/Moore cowrite, a surprising cover of "Don't You Just Know It", five co-writes between the two sprinkled throughout.  The recording was done by Jason Falkner at his Rhetoric Studio in Hollywood CA.
Before they met up, both artists had long and storied careers, but their paths to cult status take completely opposite routes. Moore is widely considered to be the godfather of the DIY recording aesthetic. Dubbed a "lo-fi legend" by the New York Times, he started his career in the late 60's, gaining widespread underground recognition during the 70's punk explosion. Anticipating the viral internet era, Moore made innumerable cheap but brilliant videos. Luckily, many of them eventually found their way to YouTube where a whole new generation of fans discovered his work including the likes of MGMT, Mac Demarco, theVaccines and collaborator Ariel Pink.
After a stint playing with a later line-up of the Coasters and trying his hand as a Nashville session player, R. Stevie realized he wasn't cut out for the life of a conventional working musician. As he said in the documentary film, I AM A GENIUS (AND THERE'S NOTHING I CAN DO ABOUT IT) "So boring. It was not me at all. If you have to work a day job, what could be better than doing music even if you hate it? …At the same time I started smoking pot as a twenty year old and I'm playing this acid rock on headphones and reel to reel recorders. It just exploded!". He's recorded more than 400 albums including the classic Phonography and Delicate Tension, releasing them via various labels as well as on his own on handmade cassettes and CDRs.
On the other hand, Falkner was involved in various major label deals as a group member and solo artist. He started with Paisley Underground pioneers The Three O Clock, joined supergroups Jellyfish with Andy Sturmer and Roger Manning, and the Grays with Jon Brion, finally scoring a solo deal with Elektra. He's gone on to release numerous solo records and has worked with a wide range of artists, including Beck, Air, Brendan Benson and Paul McCartney.
Make It Be makes clear very quickly that their voices, performances, and arrangements are a match made in heaven long overdue to be realized here on earth. The duo immediately explodes on the lead off track with "I H8 Ppl" and proceeds to take listeners on a journey through rock, pop, and experimental music. Anchors such as "Play Myself Some Music" and "Sincero Amore" keep the effort rooted in insanely catchy songwriting, while spacey instrumental interludes and spoken-word pieces push boundaries of what could be considered pop music. Their raucous cover of the New Orleans classic "Don't You Just Know It" shows the kind of fun the two had together.
"He was only able to be here for two weeks," Falkner recounted to Transatlantic Modern, "so I just kind of concentrated on getting as much of him on tape as possible, and then I'm adding my Jason half to it. But it is a duo, it's not just a record that I'm producing. So that's very exciting." As well as adding multiple instrumental tracks, Jason sang lead on a number of R. Stevie's compositions.   (Note: a whole new documentary  Cool Daddio about Stevie is set to be released in 2017).
Moore explains how these strange bedfellows finally got under the creative covers together:
"We unknowingly shared a mutual admiration bigtime and finally got in direct contact mid 2000's. I think my friend Tim Burgess was the first one to turn him onto my stuff. Recording with him was a dream, totally incredible. We showed a similar sense of both crazed adventure and textbook pop discipline. The sessions moved fast, just gleefully piling on overdubs. I am grateful he allowed me to just dive into any left-field idea I felt. JF's a marvelous producer and killer drummer, but I don't think he usually gets quite as much creative leeway to tinker with things as he did with me."
Meanwhile, Falkner recalls: "I first became aware of Stevie in the late 90's when I was sifting through the 10″ bin at a record shop that was going out of business. This record with the Beatles' Revolver cover caught my eye. Upon closer inspection I noticed all the beatles' faces in the collage were covered with this oddly interesting looking fella. It was, of course, the R. Stevie Moore Revolve record so I bought it on looks alone..took it home and fell hard in love.
Take one mad DIY genius with the whole history of rock n roll at his fingertips and one consummate, world-class multi-instrumentalist, singer/composer, shake vigorously, and you have the magic that can be found in the grooves of Make It Be by R. Stevie Moore and Jason Falkner. Can't wait to see what happens next.