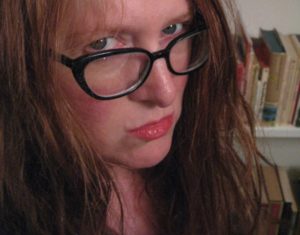 Run Tiny Human is the latest album from Shelbyville, Oregon-based songwriter / singer / musician / producer Rachel Taylor Brown. The album was recorded and mixed by Jeff Stuart Saltzman (Bloc Party, Menomena, Stephen Malkmus, Typhoon). This is Rachel's 8th album with Jeff. The album was mastered by Adam Gonsalves of Telegraph Mastering. Run Tiny Human is being released October 19 by Penury Pop Records.
Run Tiny Human is her tenth record and possibly her best, which is saying something for an artist whose albums have been praised for their top-to-bottom strength by outlets like NPR, Popmatters, Absolute Punk, and Bitch Magazine among others. Two of her songs were featured in the late Scott Miller's classic countdown-of-best-songs-ever book,"Music: What Happened?"
While often catchy and memorable her songwriting and performance are far from standard pop. Rachel was joined in the studio by Jeff Langston, bass (Antony and the Johnsons); Ben Landsverk viola/vocals/guitar (Wonderly); Leigh Marble, guitar (Leigh Marble); Lisa Stringfield, vocals (Ages and Ages); Katie Taylor, vocals (Opera Theater Oregon); Jeff Stuart Saltzman (guitars, etc., Cerebral Corps, Sunset Valley). Guest players on Run Tiny Human include Justin Harris (Menomena, Bloc Party); Joe Mengis (Eels); Mark Powers (Floater); Gayle and Phil Neuman (De Organographia, Oregon Renaissance Band). Brown explains the new album's perspective:
"Half asleep one night, I thought about the space junk orbiting the earth looking down at the Pacific garbage gyre. The space junk got more and more obsessed until it broke free of Earth's orbit and fell into the ocean, joining the gyre. Anyway, that's where the song Little Gyre came from. A one-sided love song from the viewpoint of a kind of stalkerish bunch of sky garbage."
"I guess I had garbage on the mind. Land and ocean and outer space, all filled up with garbage in an impressively short timespan–something I wouldn't have thought possible as a kid. Just one of our relatively recent, awesome achievements. Go, humanity!"
"I'm struggling to come to grips with an increasingly absurd world, like anyone. Run Tiny Human is partly what my brain makes of it. And per usual, the way people behave and cope is what interests me and sometimes (ok, often) horrifies me. And also touches me."
"These times are placing demands on human escapist ingenuity in ways they never have before. To complicate matters, Americans are more cuckoo than ever, with absolutely no awareness of just how crazy we've become–like the reeking ladies so drenched in perfume they've lost their sense of smell and have no idea just how profoundly they're affecting the atmosphere. I have to believe those ladies once made do with a single, sensible spritz, and then things just spiraled out of control. So I like to remember Americans once had sense."
Rachel lives just outside Portland in Shelbyville, OR with her beloved husband and sister.
Not knowing about Rachel is easy. She doesn't get out much and it can take some effort to find her music. Nonetheless her devoted following now spans the globe and new converts are known to buy all her accumulated output in one fell swoop soon after they first discover her work.
Every so often, we're lucky enough to come across a "great unknown," a non-mainstream artist who deserves to be heard by the widest audience possible. Rachel Taylor Brown is one of those artists.
http://www.racheltaylorbrown.com
https://racheltaylorbrown.bandcamp.com/