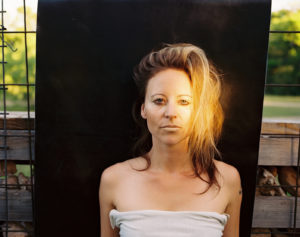 SWANDALA is a new solo album from experimental musician and dancer Raquel Bell (Normal Love, MESIKO) a native of Humboldt County California. The album was recorded in Austin Texas with a cast of exceptional musicians and produced by Zac Traeger and Bell. Raquel. Bell took the recordings to Kevin Ratterman, one of her favorite producers, for mixing and mastering. The deep psychic friendship between Bell and Ratterman produced a shared vision for SWANDALA. The album is being released by the STORBM label July 27.
The songs on SWANDALA were written in a trailer on the Brazos River about 30 minutes Northwest of Waco in a small town called Gholson. The river and the sounds of deep Texas country living are deeply felt in the songs. The helicopters and traffic noise of New York City, where Bell had lived for 11 years prior to her move to Austin, were replaced with thunderstorms, gunshots, airboats and coyotes. There was more space and time for longer compositions and to explore vocally what could never be expressed in the confines of a big city apartment. After making demos in her trailer, Bell asked local musicians to take part of proper studio sessions. The core players were Lisa Cameron (ST37/Roky Ericson/Suspirians), Jonathan Horne (White Denim/Young Mothers) and Adam Jones (Bill Callahan). Thor Harris added essential vibraphone and percussion and Bob Hoffnar lent his extraordinary pedal steel work. Many other wonderful players graced particular tracks helping to create a varied and rich sound. Zac Traeger acted as music director and performed the incredible piano accompaniment on the final track, "Swan."
Raquel Bell is also a visual artist and embarked on a thrilling journey with NO PROMISES PRODUCTIONS to create video content for the record. NO PROMISES was founded by Bell, Princess Donna Dolore and Megan McAtee to explore film and video under massively chaotic circumstances. They produced the music video for Bell's single, "LOSE," that preceded the album's release and the videos that make up SWANDALA.
Raquel Bell has always been interested in pushing the boundaries of new music. In New York City she performed in multiple operas by the composer Harry Partch. She sang and played midi-percussion in the avant-noise band, Normal Love and toured with her band MESIKO. She also composed countless originals for art installations and galleries, as well as performing live improvised music for voice and organ.
She left New York for Texas to explore the quiet of rural living and seek out musicians to work on her new material with. Within a week of her relocating, violist and composer Jessica Pavone arrived and the pair took off on tour from Austin to Canada to New York City where they would record the Dark Tips album, recently released by Prom Night records. This tour stopped in the Museum of Human Achievement in Austin Texas where she met Zac Traeger who would collaborate with her on the production of SWANDALA.
Currently, Bell is the lead singer of The Dialtones, plays live experimental improv in her duo, Ganjisland, and performs in the recently formed band, Galecstasy with Jared "Chairy" Marshall of Primary Mystical Experience. In 2018 Greg Saunier, founder of Deerhoof, asked Raquel to perform with he and Rozie Jordan at Austin's extraordinary NO IDEA FESTIVAL. What transpired was an unforgettable explosion of live stage energy, vital and thrilling. Bell is also a student of choreographer, Deoborah Hay, having just completed her 2nd residency under her tutelage.