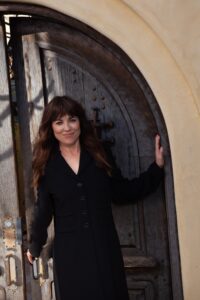 On her tenth full-length album of sensuous Art Pop, Parts of Speech Pieces of Sound, storyteller, singer, multi-instrumentalist, and actress Rebecca Pidgeon taps into the ongoing communication between body, mind and spirit through vibrations and energy.  Recorded in Los Angeles with co-producer Fernando Perdomo, the ten tracks here illuminate the connection between her art and her explorations of the sacred science behind yoga practice. Parts of Speech Pieces of Sound is being released on CD, digital download and via streaming platforms on Toy Canteen Records, September 24.
The music, performed by Rebecca on multiple instruments, along with Perdomo (bass, guitar, keys], Andy Studer (strings), Matt Tecu (drums), and Satnam Ramgotra (tablas), shares aesthetic space with the ambitious, elaborate, cinematic work that made Kate Bush an icon, tempered with the hypnotic, atmospheric dreamscaping that artists like Weyes Blood and FKA Twigs have drawn from Enya.
The themes stem from Pidgeon's devotion to yoga. She had been a lifelong practitioner, but the COVID lockdown afforded Rebecca the opportunity to immerse herself still more deeply. Rebecca started listening to the online teachings of world-renowned yogic scholar Sri Prashant Iyengar, additionally participating in remote classes originating in Mumbai. "These teachings led me into all sorts of realms of exploration I've never been in before in yoga," she reflects. Parts of Speech Pieces of Sound emerged from these investigations.
In a dream, she found herself singing a haunting melody line to a drumbeat played by a shadowy figure. Upon waking, Pidgeon recognized the connection between the music and her studies at the time, composing album opener "Now Begins" with the first three sutras of Patanjali at its core. On the track, delicate acoustic guitar brushes up against her heavenly vocals enveloped with organic production flourishes, giving way to an absorbing mantric chant.
"The idea to conjure up a bunch of songs based around chakra theory came to me afterwards," recalls Rebecca. "Chakras are energy centers in the body, but they're also tied in with the five Elements and have their own deities. I ultimately connected many of the songs to these centers."
She proceeded to compose the songs in the order they appear on the finished Parts of Speech Pieces of Sound.  "Blue Lagoon" is based on another dream, this one tied to water. On the first single "Silent Sound. while strings wrap around a steady beat, her voice flutters around lyrics referencing the throat chakra and aether, as she pledges "And in my deepest sleep, I'll meet with you beloved, and I will sing my songs to you." The album ends with "Clouds Are Clearing." Pidgeon declares, "I'm giving a prayer of gratitude to my guru. I thought it was an appropriate ending to the record because whatever has come to me, I owe to my teachers. I've had a happy journey creating this record from my yoga studies."
Rebecca Pidgeon was born in Cambridge, MA and raised primarily in Edinburgh, Scotland, gravitating towards music as a child. Mom and Dad introduced her to the likes of James Taylor, while she eventually discovered both Kate Bush and The Sex Pistols on her own. She fronted the band Ruby Blue for three records before relocating to the United States where she launched her solo career. Fan favorite albums followed including The Raven (1994), The New York Girls' Club (1996), The Four Marys (1998), Tough On Crime (2000), and Behind the Velvet Curtain (2008), four songs appearing in the critically acclaimed film Red Belt. The ensuing decade saw her release Slingshot (2011), Blue Dress On (2013), Bad Poetry (2014), and Sudden Exposure to Light (2019). Praising the latter, American Songwriter affirmed, "She's the real deal," and Glide Magazine noted, "Pidgeon's prolific work as a songwriter and vocalist is akin to the self-immersion she undertakes for her mesmerizing performances on camera."
In addition, she has captivated audiences on-screen as a much sought-after film and television actress. Among dozens of credits, she has appeared in celebrated classics such as The Spanish Prisoner (1997), State and Main (2000), and Heist (2001) opposite the likes of Gene Hackman, William H. Macy, Sarah Jessica Parker, and Philip Seymour Hoffman. Additionally, she has appeared in blockbusters a la Red (2010) and NETFLIX's Bird Box (2018), to name a few.
Parts of Speech Pieces of Sound, however, is the best way to get to truly know Rebecca. "This is a very special record to me; with its connection to yoga, this does bring everything full circle for me."