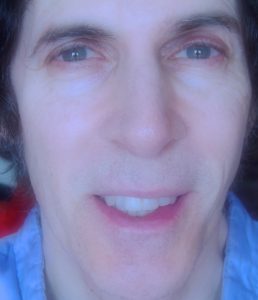 The Merriam-Webster Dictionary defines "copious" as "full of thought, information, or matter."  And of course, Richard X. Heyman, who is a self-described pundit of the pun, thought of the double meaning of "notes," and there you have it – the title of his fourteenth album, Copious Notes. Copious Notes will be released on Turn-Up Records on June 18, 2021.
For the bulk of 2020, with all live performances put on hold due to the pandemic, RXH focused his musical sights on recording. A dozen new songs were chosen for the sessions. Along with his wife Nancy, who engineered and played bass on many tracks, RXH completed the album at their home studio, The Kit Factory. The songs range from melodic pop to all-out rock'n'roll with a few wistful ballads to balance out the repertoire. Although coming up with original songs can appear to be an insular process, nothing is created in a vacuum, and this album is certainly a reflection of the past year.  Along with RXH's heartfelt vocals and trademark wall-of-guitars and keyboards, some songs are augmented with brass, woodwinds and strings, all propelled by his exuberant drumming.
Only a few moments after RXH popped out of the womb in Plainfield, NJ, he started tapping his fingers in rhythm.  By age five, he was playing the drums, and at the ripe old age of twelve, formed his first rock'n'roll band – The Ascots, who a few years later, changed their name to The Doughboys when they landed a deal with Bell Records.  At fourteen, he expanded his musical vistas, learning guitar and piano, and composing his first original songs.
After debuting his DIY EP Actual Size and the full-length album Living Room!!, RXH was signed to Cypress/A&M who re-released Living Room!!  His second major label album, Hey Man!, came out on Sire/Warner Bros.  Next was his third album Cornerstone on Permanent Press Recordings.  All subsequent releases have been on RXH's own Turn-Up Records – Basic Glee, Heyman Hoosier & Herman, Rightovers, Actual Sighs, Intakes, Tiers, And Other Stories, X, Y, Incognito and Pop Circles.
For those of you unfamiliar with RXH's music, it might help to list his influences. One can hear traces of early rock'n'roll, 60's British Invasion groups, American folk rock, west coast pop, Motown; even some Broadway and classical baroque find their way into the mix, but it all ends up bearing his singular sound. He has not only played with The Doughboys, but has also lent his drumming chops to Link Wray, Brian Wilson, Mark Lindsay, The Left Banke's Michael Brown and Steve Martin Caro, and Jonathan Richman, among others. As a guitarist, he performed with Mary Weiss of the Shangri-Las, and played keyboards with Ben E. King.