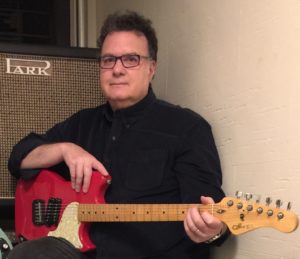 Frozen Flowers Curse The Day is the latest release from pioneering avant-guitarist Robert Poss, a founding member of the legendary wall of guitars group Band Of Susans. The album was performed, recorded and mixed by Poss at Trace Elements Records studios in New York City with guest drummers including Dahm Majuri Cipolla (Torres, Lydia Lunch, Japan's Mono) helping out on two tracks. Frozen Flowers Curse The Day is being released by his Trace Elements Records label August 3.
This eclectic collection of recent work continues Robert's obsession with the electric guitar, drones, textures and sonic architecture. Like his previous solo release, Settings – Music For Dance, Film, Fashion and Industry, some of the material was created for the modern dance companies with which Poss has worked for nearly a decade. The album ranges from ambient and experimental instrumental works to Band Of Susans-esque rockers with vocals.
Shellac leader and sound recordist extraordinaire Steve Albini told The Wire that Robert "…is an enormously underrated guitar theorist. A lot of his approaches to the density of guitar are completely overlooked in any discussion about guitar…The way he structures the song around the drone instead of finding a drone to fit into the song I think is wholly unique."
Robert Poss founded the critically acclaimed Band Of Susans in 1986, described by Rolling Stone Magazine as "adamantly arty, brainy, visceral and bracing." B.O.S. went on to release two EPs and five full length albums produced by Poss before disbanding in 1995. Before forming the band he'd worked with Rhys Chatham and after the group parted ways he'd collaborate with Nicolas Collins, Wire's Bruce Gilbert, Ben Neill, David Dramm and Phill Niblock, among others.
In 2002 Robert released a pair of companion solo albums Distortion Is Truth and Crossing Casco Bay on Trace Elements Records. Tape Op Magazine described him at the time as a "guitar genius, drone meister …the master of treated and manipulated guitars." Following those releases, Poss has composed and performed music for choreographers Sally Gross, Alexandra Beller and Gerald Casel, and worked with Band Of Susans co-founder Susan Stenger on a 96-day musical installation for the Musée d'art Contemporain in Lyon, France. He performed at the premier of composer Phill Niblock's "Stosspeng" in Krems, Austria and contributed music to an Albert Maysles/Kristen Nutile documentary, Sally Gross: The Pleasure Of Stillness.
In 2009, he performed with Rhys Chatham and Robert Longo at a Metropolitan Museum of Art retrospective and participated in Chatham's Crimson Grail project for 200 guitars at Lincoln Center. He has also collaborated with Austrian visual artist Margret Wibmer. Poss has written guitar-centric articles for The Leonardo Music Journal and The Tone Quest Report.
Robert released another solo album in 2010 Settings: Music For Dance, Film, Fashion and Industry, prompting The Wire to enthuse that his "abiding love for electric guitar is no casual dalliance or detached Platonic infatuation; it's an erotic commitment, an obsessive plunge into the instrument's metallic churn and enveloping drone."
In 2012, he performed the music of John Cage, Yoshi Wada and Phill Niblock along with Stenger at the AV Festival in Newcastle, U.K. Two years later he participated a two-day music and sound installation is Paris along with Stenger, Einstürzende Neubauten's F.M. Einheit and renowned actress, writer and theatre artist Olwen Fouéré.
The following June, Robert and bassist Kato Hideki accompanied the Alexandra Beller/Dances company at La Mama on the piece "milkdreams" performing an original composition for a series of eight performances. In February 2017, he took part in recording F.M.Einheit's "L'exposition d'un rêve" ("The Exhibition of a Dream"), which premiered at the Gubenkian Foundation in Paris later that same year.