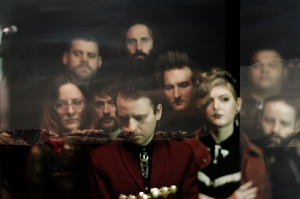 Portland, Oregon's Roselit Bone is releasing their sophomore effort Blister Steel, The new album was recorded at Get Loud and Taylor House studios in Portland as well as at Vallis Labs in  Corvallis, OR, produced by band leader Joshua McCaslin.  Blister Steel, is their label debut for Friendship Fever Records and comes out on June 2.
If 2014's self-released debut Blacken & Curl set the tone, Blister Steel refines and expands it. Founding member Joshua McCaslin 's lyrics are crueler and darker, the arrangements bigger and more ambitious, the vision and scope blown up into a panoramic, foreboding landscape that looks disturbingly familiar. The grandeur of Mexican ranchera and the innocence of Hollywood's singing cowboys belie a savage, dystopian take on hot-rod rockabilly, surf music, Tex-Mex, and post-punk. The ten-piece band moves deftly from seething minimalism, to lush countrypolitan walls of sound, to unhinged noise.
It's hard to listen to Blister Steel, without creating movies in your head, without bleak and beautiful images invading your consciousness. A pandrogyne cowboy, mascara smeared, guns blazed out, lies drunk under a starless sky. A young boy sits under a blasted tree with a bone and a wire, numbed by a nameless catastrophe. White-robed dancers leap and crawl around a fire, celebrating a hungry god that was once a brand name. It's a deeply immersive record – one that leaves you changed.
On the title track, nimble minor-key fingerpicking weaves through what sounds like a choir of Benedectine monks until horns break like a red sun over the song. Josh's vocals throughout showcase his range: operatic keening, moaning, whispering, screaming – warning of a vaguely terrifying figure: "What I saw down there, I do not know/but I know that it was real/the king came drifting through the snow/with eyes as blue as blister steel."
On "Glint" a Latin bassline whirls us across a deserted dance floor. Rimshots echo against the walls. Shards of Barry Walker Jr's pedal steel fly like shrapnel as the song hits its ferocious, orgiastic crescendo. "Leech Child" is a lonely waltz with tremulous electric guitar and flautist/vocalist Valerie Osterberg's harmonies woven through spaces as empty as the Oregon desert, with lyrics that might describe a future cult in a world drained of hope. "Tie-Dye Cowboy" adds a moment of levity – an homage to the cosmic cowboy scene of the 1970s – while "My First Name" sounds like a lost track of primitive rockabilly as Joshua exhorts and shouts like a preacher who moonlights as a bareknuckle boxer. "Where Our Light Casts Doubles," casts a hazy spell of 1950s balladry, even as Joshua sings of being a "cold motherfucker" taking a walk through the hills to escape his lover and her "snoring, shitting dog." Beauty and ugliness are inseparable on Blister Steel.
A native of Southern California, McCaslin formed the band in Portland, Oregon in 2013: first as a duo with drummer Ben Dahmes, then a trio, and eventually a 9-piece ensemble of flute, trumpets, pedal steel, accordion, violin and more. Josh himself is a triple threat: a versatile and accomplished guitarist, a powerful writer of vivid nightmare-poetry, and a singer unique in his ability to croon like Marty Robbins, bellow like Nick Cave, and scream, grunt and wail like a defiant, wounded animal.
The vision of Roselit Bone is not an easy one to stomach. It's a world of abuse, violence, environmental and personal degradation. It's a world that closely resembles our own, and if some of Joshua's lyrics about nightmarish authority figures precede the current political catastrophe, it makes them all the more remarkable. If Blister Steel is the canary in our coal mine, it sings a dark and beautiful song.
https://www.facebook.com/RoselitBone/