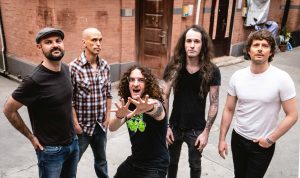 With their new album Culture Shock Treatment, Shanghai's foremost "freak punk" exponents Round Eye turn their demented lyric focus on their own home turf, The People's Republic of China and fire on all cylinders.  The album was produced by mike watt (MINUTEMEN, fIREHOSE, Iggy & The Stooges…) and mixed by Bill Stevenson (Black Flag / Descendents / ALL). It's been digitally released by Less Than Jake's Vincent Fiorello on his Paper and Plastick Records label and will be physically released May 7 on 12" vinyl LP by D.O.A.'s Joey Shithead's Sudden Death Records.
Culture Shock Treatment is an unabashedly incendiary celebration of Round Eye's unconventional blend of 50s R&B, Free-Jazz and Punk. It belies the unmistakable influences of such outre icons as the Stooges, Captain Beefheart, Dr. Feelgood (you may have to Google that one) and The Fall and fuses them into an unique oeuvre all their own.  The lyrics are a fearless and forthright criticism of the government, policy, and culture of the People's Republic of China, in keeping with their past treatment of Western societies' failings.
This experimental, sax wielding outfit have achieved a highly visible and sometimes controversial place for themselves in Chinese popular culture since being formed in 2012 by former Libyan Hit Squad frontman Craig Englund and fellow expats from America, Ireland and Italy respectively. They won the "Best Local Band" title from Shanghai's City Weekend magazine two years in a row. They released acclaimed music videos including "Suntan" starring famed Chinese actress Wang Lin/Xue Yi, from the Chinese soap opera Romance in the Rain and appearances in Academy Award-winning Ang Lee films such as Lust / Caution; "Sifter" was the very first (probably the only!) punk video filmed in North Korea.
The Shanghai-based group has been a crucial force in bridging the gaping abyss between the Eastern and Western hemispheres' DIY punk rock scenes. They themselves have been one of the few Chinese punk band to play all over the globe. Meanwhile, they've played host to visiting Western punks, some of them legendary, sharing stages with acts such as Descendents, The Fleshtones, MDC, Verbal Abuse, mike watt + the missingmen, D.O.A., The FUs, The Boys (UK), Paul Collins Beat, Twink, Ceremony, Iceage, as well as notable Asian acts like P.K.14, SMZB, SUBS, Hang on the Box. During a tour of mainland China with UK punk legends The Boys, they were banned from further touring by the Ministry of Culture for the lewd artwork on their tour posters and were forced to literally move the tour "underground" — VICE magazine documented one of their "bunker" gigs in Beijing in glorious baijiu filled detail.
Their past releases have featured guest appearances by Greg Ginn of Black Flag, the late Steve Mackay of Iggy & the Stooges, Lo-fi legend R. Stevie Moore, and horror movie host Joe Bob Briggs.
Round Eye had plans for a tour of Europe, Japan, and China along with an appearance at the UK's Rebellion Festival but due to COVID-19 all these plans have been postponed till 2022.  Instead, 2021 will see the release of the new album, music videos and touring mainland China.