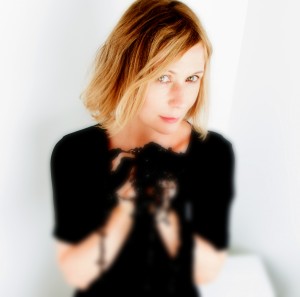 On November 21, acclaimed songwriter/singer Sam Phillips is issuing Human Contact Is Never Easy, her first new release since 2013's critically acclaimed Push Any Button album. This is an eight song EP comprising studio recordings of four new songs, two songs recorded live during her 2013 performances at Largo in West Hollywood, and two tracks from Push Any Button for those who may have missed the album the first time around. Human Contact Is Never Easy is being released by Littlebox Recordings exclusively as a paid download from all major download retailers for $7.92 or $6  from www.samphillips.com.
The new studio tracks were recorded and mixed by Eric Gorfain (The Section Quartet) in an old Charlie Chaplin-era bungalow near downtown Los Angeles during sessions for a new album, slated to be released in 2017. These recordings were produced by Phillips and mastered by Grammy winner Mike Piersante (Raising Sand, Oh Brother Where Art Thou, etc. Sam was joined in the studio by some of Los Angeles' finest musicians:  Jay Bellerose, drums and percussion; Jennifer Condos, bass guitar; Eric Gorfain, violin, string arrangements, keyboards; Richard Dodd, cello.
The live selections were recorded by Paul du Gre on November 9 & 10, 2013 at Largo at the Coronet Theater, West Hollywood, CA and mixed by Eric as well. Sam was accompanied by Bellerose, Condos, The Section Quartet (including Gorfain) and Patrick Warren on piano and string arrangements.
Phillips has spent much of 2016 composing and performing the original score for the revived Gilmore Girls series which debuts on Netflix November 25. Each episode has its own original music and performances.  She recorded with the same basic personnel who appear on Human Contact Is Never Easy.
Sam Phillips began her career writing and recording six albums with producer T Bone Burnett, released by the Virgin and Nonesuch labels respectively, winning a devoted following, the respect of many highly regarded musicians and songwriters and overwhelming critical recognition.
In 2000 Amy Sherman-Palladino, already a Phillips fan, asked her to compose and perform the score to Gilmore Girls, which ended up running for seven years and went into worldwide syndication before its current revival. After the original run of Gilmore Girls ended, Sam released her seventh album, the self-produced Don't Do Anything on Nonesuch Records yielding the song "Sister Rosetta Goes Before Us", which was re-recorded by Robert Plant and Alison Krauss for their Grammy-winning, multi-platinum album Raising Sand.  Her tune "Reflecting Light" was prominently featured in both Gilmore Girls and the 2009 film Crazy Heart.
Not one to rest on her laurels, Phillips devised an innovative way to release her music directly to her fans.  In 2009, she created the Long Play subscription project recording five EPs as well as a full-length album, Cameras In The Sky, primarily of new originals, for digital-only release to her subscribers.  Long Play provided this community with a unique and ambitious web-based art and music installation featuring new music, short films, original essays, candid footage of her at work in the studio, and other exclusive material.  The Long Play music was well received by critics across the country. Phillips finished the project by releasing Solid State, a 13-song sampling from the Long Play for her listeners who wanted the music on CD. Soon after, she reunited with Amy Sherman-Palladino, coming onboard to compose and perform music for the ABC Family series Bunheads. Throughout 2012, Sam had her hands full creating music for the series AND completing her ninth full length album Push Any Button, her attempt at "looking at the future through the past." This was released in 2013 and was warmly received by both fans and the critical community.