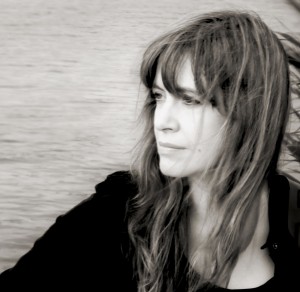 Born in Madrid (to a Spanish father and an American mother), raised in Chicago and now living in rural England, Sarah McQuaid was taught piano and guitar by her folksinging mother, and remembers being inspired by meeting her distant cousin, well-known singer/songwriter/storyteller Gamble Rogers, at her grandmother's house in Indiana. From the age of twelve she was embarking on tours of the US and Canada with the Chicago Children's Choir, and at eighteen she went to France for a year to study philosophy at the University of Strasbourg.
She moved to Ireland in 1994 and lived there for 13 years, working as a music journalist and magazine editor. In 2007, she re-released her 1997 debut solo album, When Two Lovers Meet, and launched her solo career with a performance on Irish national television as the musical guest on John Kelly's popular Friday evening arts show The View.
The same year saw her moving to England and playing major festivals like Sidmouth and Trowbridge, and in 2008 she released her second album, I Won't Go Home 'Til Morning. In contrast to the first album's focus on Irish traditional songs and instrumentals, the follow-up was a celebration of old-time Appalachian folk, with Sarah's arrangements punctuated by her own fine compositions and a cover of Bobbie Gentry's classic "Ode to Billie Joe."
Sarah's first two solo albums were re-released as a double-CD set in North America in February 2010 and immediately went to No. 1 on both the album and artist Folk-DJ chart.
Like its predecessors, Sarah's third album The Plum Tree And The Rose (2012) was recorded in Trevor Hutchinson's Dublin studio and produced by Gerry O'Beirne, but it represented a departure from her previous work in that nine of its thirteen tracks were originals. Also featured were a 13th century "alba" or dawn song sung in Old Occitan, two Elizabethan numbers and a cover of John Martyn's "Solid Air". The album drew critical acclaim on both sides of the Atlantic: "Impeccable," wrote fRoots (UK), while Midwest Record (USA) called it "low key but glorious and incendiary" and Hot Press (Ireland) said it "should feature on many end-of-year best-ofs."
Crow Coyote Buffalo, an album of songs co-written by Sarah with fellow Penzance resident Zoë (author and performer of 1991 hit single "Sunshine On A Rainy Day"), was released in 2009 under the band name Mama and garnered rave reviews: Spiral Earth described the pair as "Two pagan goddesses channelling the ghost of Jim Morrison."
Recently dubbed "guitar queen" by one festival organiser, Sarah is also known for her use of the DADGAD tuning. She is the author of The Irish DADGAD Guitar Book, described by The Irish Times as "a godsend to aspiring traditional guitarists," with a follow-up book on the way that will focus on DADGAD song accompaniment. She regularly presents workshops on the DADGAD tuning (as well as on songwriting, tour booking and more) at festivals, music schools and venues around the globe.
Currently spending six months of each year on the road in the UK, Ireland, Continental Europe and the USA, Sarah releases her new album Walking Into White in 2015.
"Brilliant musicianship, a warm and welcoming stage presence and a voice as rich, matured and knowing as the finest thrice-distilled Irish malt whiskey." — Geoff Wallis, fRoots, UK
"Luminous and revelatory." — Peter Ford, The Orcadian, UK