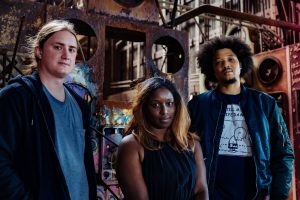 Shakespeare & the Blues is a fusion trio based in New Orleans who'll be releasing their debut album e.g.,Rhapsodic on Nouveau Electric Records, the label run by Louis Michot of Grammy winners Lost Bayou Ramblers. Making experimental music drawing on Jazz and Hip Hop influences, the trio features Cam Smith on drums and electronics, Cassie Watson Francillon on concert harp, and Bryan Webre (Lost Bayou Ramblers and Michot's Melody Makers) on bass and electronics. The album was recorded at Mark Bingham's Nina Hwy Studio in Henderson, LA, engineered and mixed by Smith and Webre; self-produced by the trio. The album is being released October 22 on vinyl LP, CD and cassette; digital download and via streaming platforms.
The songs on e.g.,Rhapsodic are uninhibited explorations of genre blending, tied together by futurist grooves and virtuosic syncopating. They are composed around a startling selection of samples and soundbytes enmeshed in the trio's visionary instrumental experimentation.
Cam and Bryan started playing out together locally as Shakespeare & the Blues in 2019 performing free-flowing sets that never repeated ideas utilizing drums, bass, loops, samples, guitar and synths.
One day Watson Francillon recruited Smith to participate in a harp-percussion duet she'd been commissioned to perform at New Orleans' Cathedral of Peter and Paul. He in turn invited her to a Shakespeare & the Blues set at Banks Street Bar and eventually to sit in with them, which led to her joining the group. The trio immediately felt so locked in, they decided to go straight into Nina Hwy Studio to document their undeniable chemistry. They cut what'd end up as e.g., Rhapsodic  from this session.
Previous to Shakespeare & The Blues, Cassie Watson Francillon had played harp locally at the Marigny Opera House and the New Orleans Airlift Music Box Village. She has played with acts including John Cameron Mitchell, Helen Gillet, Tank and the Bangas, Julie Odell and People Museum. Watson Francillon released an acoustic solo album this appears to disappear and was recently the Assistant Director for the New Orleans Jazz and Pop Harp Committee.
Cam Smith studied Jazz and music production at University of Louisiana and soon was working as an audio technician at the Acadiana Center for the Arts in Lafayette LA; he first started playing with Webre around that time. After moving home to New Orleans he's kept busy engineering and playing and released several albums and EPs under his own name.
Besides Shakespeare & The Blues, Bryan Webre performs with Lost Bayou Ramblers, Michot's Melody Makers and Soul Creole (with Zydeco star Corey Ledet, Louis and Ashlee Michot) after spending years playing "all kinds of music in drastically different bands." Having played with Cam in Lafayette, when they both found themselves in New Orleans they began working together as Shakespeare & The Blues, first as a duo then as a trio when Cassie came on board.