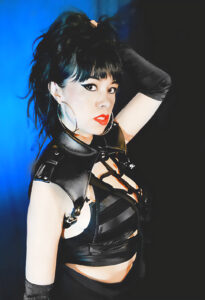 Austin, Texas based, dark electronic phenom, SINE (pronounced like 'sign', spelled in all caps), announce the release of their new 5 song EP, Mantis 1, the first in a trilogy of EPs, "Mantis 1, 2 & 3".  Mantis 1 will be released by Austin-based record label eMERGENCY heARTS with a street date of May 6, 2022.
"Attack", the first track and single from Mantis 1 opens with a seductive synth line, powered by a smooth, danceable beat, and a compelling vocal take by SINE vocalist Rona Rougeheart.  The deep underlying rhythms and moody atmosphere is reminiscent at times of legendary trip-hop pioneers Massive Attack and Tricky.
Rougeheart explains how the song came about:
"I saw so much turmoil and unrest from various protests on the news and on social media while making this record. "Attack" is not about any particular incident, but more about the idea of people being constantly under attack by anger and madness in the world…the harmful side of the human condition that we are often subjected to these days."
Mantis 1 was produced by SINE founder, Rona Rougeheart in collaboration with esteemed audio engineer Charles Godfrey at Scary American Studio in Austin, TX. Godfrey, in his two decade plus career, has been engineer/producer on over 75 recordings, including the Yeah Yeah Yeahs', It's Blitz! and Mosquito, The Black Angels Indigo Meadow, and notable work for…Trail of Dead, SWANS, among so many more.
Another standout track is "Blurred", a mesmerizing collaboration with Mark Pistel (Consolidated, Meat Beat Manifesto). Pistel, a well renowned producer, engineer, mixer, re-mixer, recording artist, performer and live show designer – specializes in dark trip-hop and industrialized dub music. He has recorded, mixed, and produced artists such as Missing Persons, Grace Jones, Bob Marley, Mark Stewart and more.
Rougeheart talks about the direction of the EP:
"I like to call the music on the Mantis EPs, "electronic boom". I really love beats, deep bass and subs. I'm rooted in dark electronic dance music and industrial sounds, but as a drummer, I can't deny that I'm more drum and bass oriented with my percussion background being the core foundation of the music I create."
SINE continues to evolve as one of Austin, Texas most intriguing and fashion forward music acts transcending industrial, goth, trip-hop into a unique aesthetic that is most captivating and uniquely  SINE.
SINE is an electronic band created and led by singer and drummer, Rona Rougeheart. She has stepped from behind the drum kit to create her own strong, sexy female fronted project that weaves beats with industrial noise and layers of booming bass and synths into a mix of jagged
textures and dark, lush fusions with cutting lyrics and vocals.
RONA ROUGEHEART was born in New York, the youngest daughter of a Taiwanese mother and Irish father. She grew up as a military child, living all over the U.S. and in Okinawa, Japan. Her father was a musician who taught her how to play keys and guitar. It wasn't until later, she decided to take up drums on her own. Early in her musical career, she played drums for multiple bands in Austin, TX, catching the eye of Gretsch Drums who, in 2012, gave her her first endorsement. Gibraltar hardware also added her to their roster and Roland electronics followed suit in 2019. In April, 2019, she landed a direct support slot for Peter Murphy in Orlando, FL for the 40th Anniversary of Bauhaus Ruby Tour with David J. The night seemed ill-fated when Peter was unable to perform, but was revitalized when she joined David J, Curse Mackey, Mark Gemini-Thwaite and Marc Slutsky for an impromptu performance of Bauhaus tunes. In 2021, SINE collaborated with Meat Beat Manifesto to release a new remix and video created by Rona and Jack Dangers. She also worked with legendary producer, Adrian Sherwood, on a SINE remix, which led to her working on new music with his daughter, Denise Sherwood.  She continues to write new music and work on collaborations.
EMERGENCY HEARTS is an indie collaborative music label/ media project in Austin, TX founded by author, musician and gallery owner scott crow (Lesson Seven, Audio Assault) with a vision for music and other media to build an umbrella entity that supports artists, outside the mainstream and where artists can collaborate and experiment across disciplines in a society that often devalues culture makers.