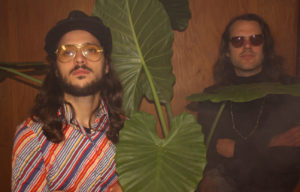 Delaware Valley's psychedelic funkateers Solid Bronze are releasing their debut album The Fruit Basket September 13 on England's Schnitzel Records after having great success with their first single release in June, "The Invisible Man" including the B-Side Dub Mix by Lee "Scratch" Perry.
Relix.com reported Perry as saying of the remix: "I was having great fun in Negril (Jamaica) working on the Solid Bronze remix…Funk meets Dub…Funky Funk to skunky Dub that's what's up! I only Dub righteousness and Dub Godlyness and I Dub righteous people. Have fun and play this dubby music until you heal from your pain and regain your brain and feel Happy Happy in Jesus name!"
GlideMagazine.com opined: "The result is a tune that creatively throws deep funk, hip-hop and soul vocals, and psychedelic guitar jamming into a heady concoction of grooviness. This is music for listening to while sinking back into a comfy chair, a pair of headphones, and a heady weed buzz. "
The album was recorded at a relaxed pace from Spring 2017 to Spring 2018 by Mickey Melchiondo (Ween, Dean Ween Group, Moistboyz) at his studio in Lambertville, NJ with additional tracking done by the core band members in their respective home studios. Melchiondo produced the record along with singer/songwriter Chris Harford and mastered by Tom Ruff (James Brown, Lester Young, Screaming Females) for Asbury Media in Asbury Park, NJ.
The songs that make up The Fruit Basket draw influences from a wide spectrum of musical styles. The Funk and Soul from of 70s artists like Curtis Mayfield and Sly Stone loom large in the group's aesthetic along with forward-thinking Jazz artists like Herbie Hancock and Miles Davis during their respective electric periods. The mellow yet intricate percussion of vintage Reggae and wild guitar expressionism of Rock's Psychedelic era are baked in as well. More esoteric sources like Arthur Lyman's exotica and latterday Hip Hop productions also helped mold their final sound.
Solid Bronze's founding members are Ian Everett and George Miller, who composed these songs as bass and drums duo, using naked rhythm as the focus and cornerstone in the recording process. Miller provided all the drums and percussion and Everett was responsible for bass, guitar and lead vocals. Typically starting with a rhythm track, they'd begin building arrangements up layer by layer performing the bulk of the music themselves on a wide variety of instruments.
The album also features notable guests including guitarist Michael "Kidd Funkadelic" Hampton (Parliament, Funkadelic), Glenn McClelland (The Ween, Blood, Sweat & Tears) on keys, saxophonist Dana Colley (Morphine), Carol Brooks (Dean Ween Group) on vocals and Atlanta-based hip hop artist CLEW. Harford and Melchiondo added vocals, guitars and bass to various songs. The end result sounds like the output of group twice the size of number actually involved, a massive nasty get-down groove with all players giving everything they've got.
Ian and George grew up outside Trenton, New Jersey. Miller's father played drums in local Jazz and Psychedelic bands in the 1970s. He introduced his son to the likes of Miles Davis and Jimi Hendrix early on and George has been soaking up inspiration from drumming visionaries ever since. Everett's first musical love was hip hop but in his early teens he discovered Punk Rock prompted him to teach himself to play bass guitar. Years of exploring new music followed and he developed a taste for Hippie rock, taught himself guitar, keys and whatever else it took to make tracks in his bedroom.
Several bands, genres and years later, these two found themselves in a band together and bonded over music they dug as well as respect for each other as players. When that act disbanded, the pair began Solid Bronze as a recording project to delve deeper into music they were fans of but hadn't had a chance to play.
Drawing on so many diverse influences and featuring notoriously genre-bending musicians, it'd be as misleading to call The Fruit Basket a Funk record per se as pigeonholing it as Rock or R&B. This music was designed to exist in its own time and space, not be crammed into any pre-existing mold.