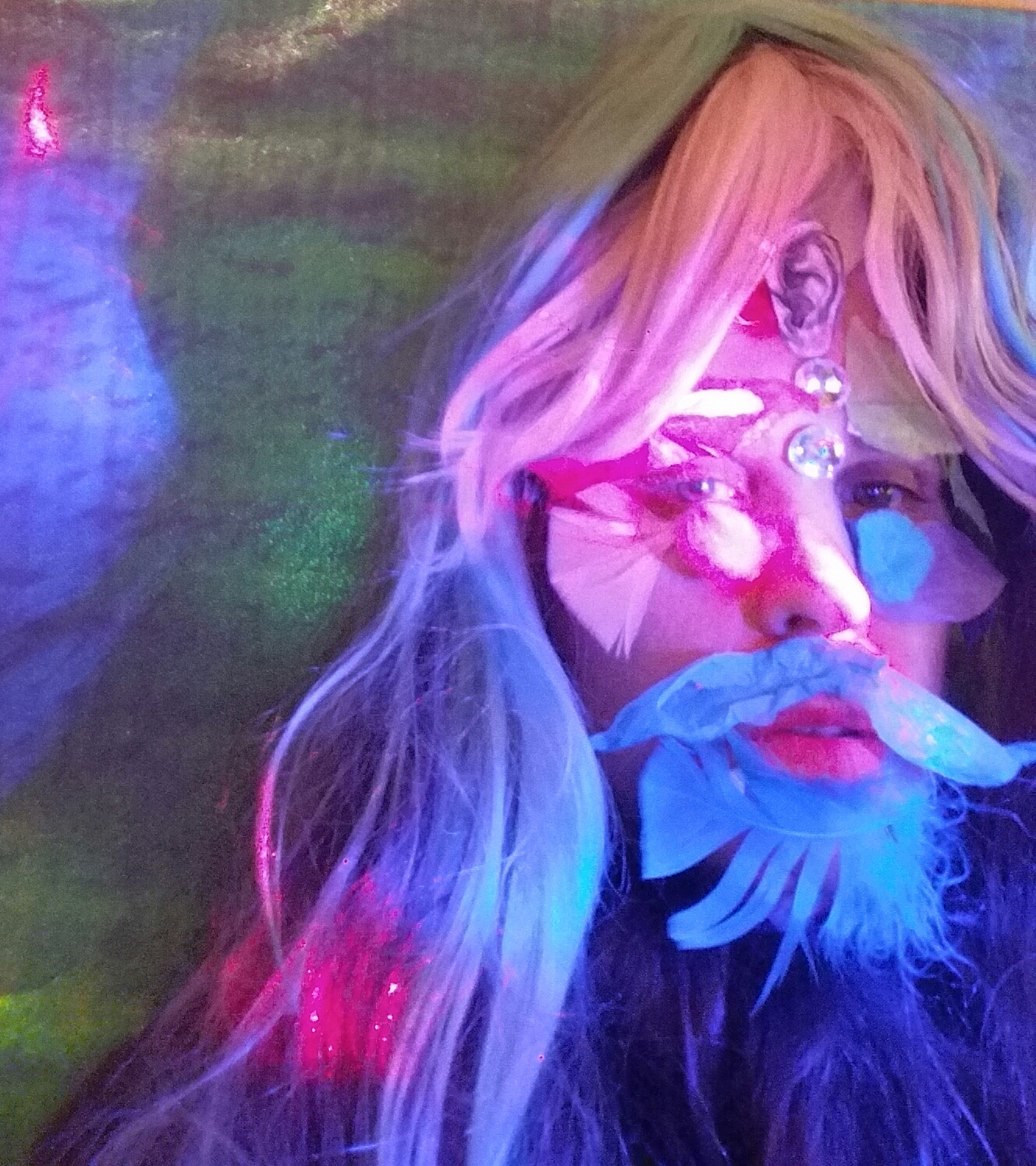 All Are One is the debut album from Portland, Oregon's "Sophe Lux & The Mystic," a solo vehicle for Gwynneth Haynes, former front person for the band, "Sophe Lux." The album was co-produced by Haynes and Larry Crane (Elliot Smith, She & Him, Cat Power, Pavement, The Decembrists, Jenny Lewis, Sleater Kinney), recorded at Jackpot Recording Studio in Portland. It's being released August 19, 2016.
The album's sound arose organically and intuitively, primarily using analogue instruments. Haynes wrote the songs, sang all vocals, played piano, B-3 Organ, synthesizer, and vintage drum machines and created intricate string and operatically flavored vocal arrangements. Crane laid down bass lines, programed drums, and played Fripp & Eno inspired e-bowed guitar.  He manipulated all this to create psychedelic sound collages full of surreal sonic nuances. Paul Pulvirenti (touring and session drummer for Elliot Smith), came in one day and laid down beats that became loops that were then interwoven with programmed drums. Dan Lowinger (Western Centuries) added guitar to "Love is Waiting" and "Your Wonderland"
All Are One presents a universe of visionary art-rock narratives bathed in glittery psychedelic and operatic textures. The album offers lush soundscapes of interwoven angelic choruses and soulful R&B vocal leads riding electronic keyboards that evoke both 80's electro-pop and vintage; they sound both nostalgic and futuristic. Poetic dream worlds and alternate realities converge as Haynes' mystic theater-of-the future unfolds. She shows herself to be a dramatic story-teller and shape-shifter who is fully possessed by the characters that populate her songs: an alien child from the future who sends a comet of love and awakening to earth ("The Love Comet"), a voodoo high priestess performing a soul retrieval ("Your Wonderland"), and a robot shaman priest preaching a new humanism ("All Are One").
Gwynneth Haynes was raised in Los Angeles in a family who supported their children's creative expression (her brother is film director Todd Haynes). She taught herself how to play guitar and piano and started writing songs at age 14. Haynes formed the band Sophe Lux in 2002 in Portland, Oregon that quickly became locally notorious for their daring prog-rock narratives, operatic-glam pageantry, and accordion-drenched, cabaret-informed. Under this moniker, Haynes produced three albums with the help of a group of talented Portland musicians, including members of the The Decembrists and Steve Malkmus & The Jicks. These albums all received critical acclaim with Haynes being lauded for her brainy lyrics and over-the-top theatricality, earning comparisons to Peter Gabriel, David Bowie, Kate Bush and Queen. This work won her four songwriting awards, two apiece from Billboard and ASCAP respectively.
Disillusioned with dystopian themes in contemporary pop culture, Haynes sought an alternative vision. She delved into the writings of Gandhi, Martin Luther King, Bucky Fuller, and the mystics Rumi & Aurobindo.  Haynes explored music's ancient roots as a medium for enchantment, magic, worship, and exorcism.  In 2012, Haynes revamped Sophe Lux into Sophe Lux & The Mystic, maintaining the latter's musical ambition and theatrical sensibilities and added elements of art-rock, electro-pop, R&B and early ambient music. Find inspiration in the aesthetic of iamamiwhoami, Bjork, Sia and Laurie Anderson, Gwynneth began creating costuming, artwork, video and performance pieces to illuminate the characters who inhabited her new songs. She promises a live show to end all shows.
http://sopheluxandthemystic.blogspot.com/
https://www.facebook.com/Sophe-Lux-The-Mystic-218600578153003/