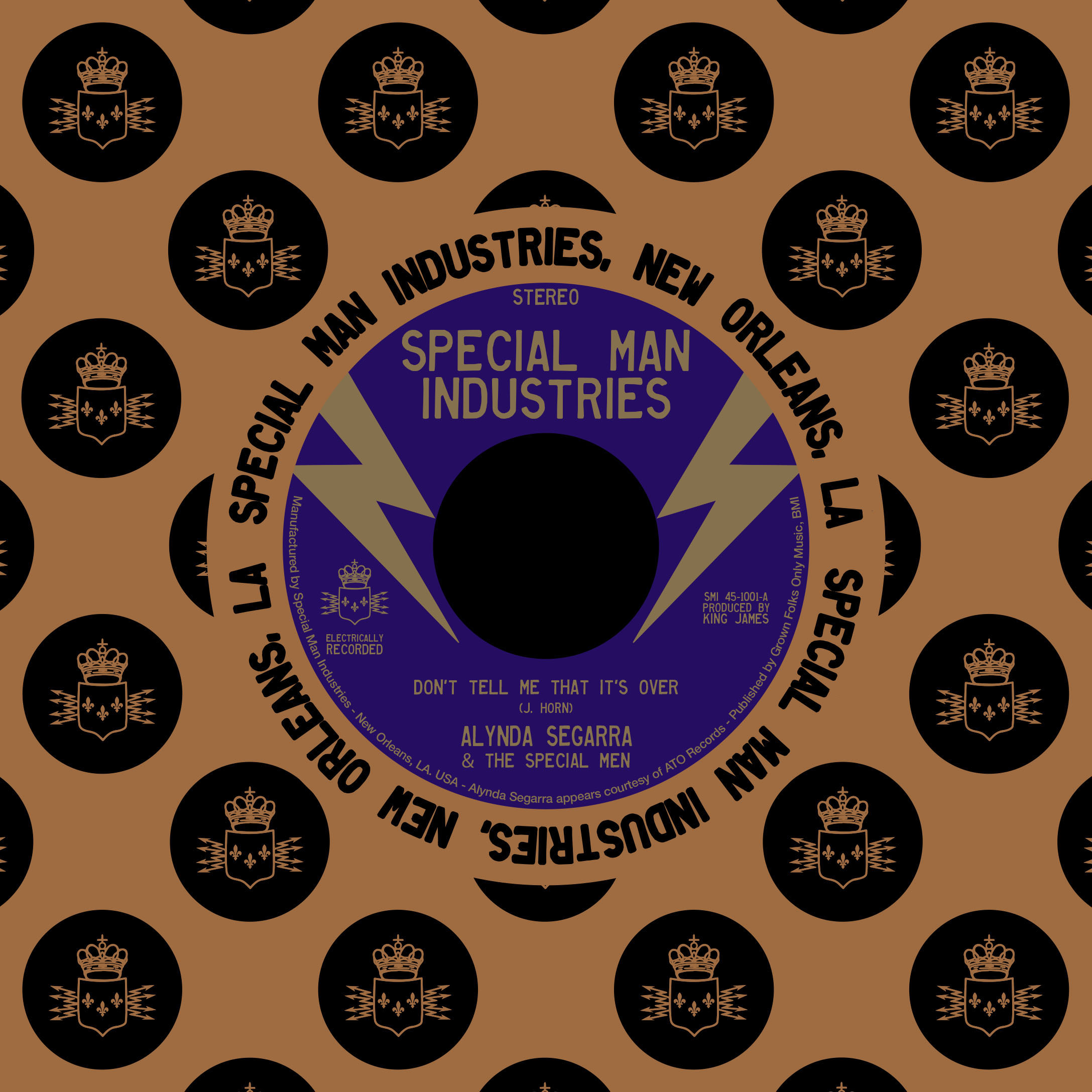 Special Man Industries is proud to announce its third release, "Baby Girl," a single written by King James, and translated into Louisiana French and performed by Louis Michot (singer/fiddler of Grammy-winning avant-Cajun band Lost Bayou Ramblers) & the Special Men (Special Man Industries' house band). This release will be available exclusively via digital download and limited edition 45 rpm record on November 16th, 2018.
Michot is the third artist to record for Special Man Industries after King James, followed by Alynda Segarra, with King James, aka "Jimmy" at the helm on production. "I find the Cajun waltz to be entirely enchanting, and always feel a certain yearning whenever I hear one…" he says. "…so asking Louis Michot to translate one of my little songs into Cajun French so he could then sing and play it on record with me was a dream come true. Convincing him to play the old time squeezebox, that was the lagniappe!"
"Working with King James and the Special Men on 'Baby Girl' was just the experience every musician hopes for," enthuses Michot, "the easy and enjoyable act of playing your own style over simple solid songwriting. Classy tunes like these don't get old, they outlive their creators, as any good tradition should."
"Once I met Louis and the boys, you know, we started booking shows and hanging out right away, so getting him into the studio was just a matter of time. Once that time arrived, the waltz was, of course, my first request. I knew my song "Baby Girl" was simple enough to probably translate easily, but old Louis had the whole thing done on the same day I asked him! He came down a few days later and we just recorded it as soon as he could sing it all the way through."
Special Man Industries' mission is to develop, produce, and distribute New Orleans' finest sound recordings for the world's most discerning listeners. "We aim to represent the wild spectrum of genres that have germinated and flowered in the rich soil of New Orleans and its surrounding areas, with an understanding that we are on the northern side of a cultural phenomenon centered in the Caribbean," says King James. The initial releases were King James & the Special Men's album debut last year, Act Like You Know, then Segarra's single earlier this year, then Michot's 7" followed up by a single from world-renowned recording artist Leyla McCalla early in 2019.
"Like Dave Bartholomew and Cosimo Matassa or the Meters and Allen Toussaint before me, like the Skatalites and Studio One, the Swampers in Muscle Shoals, Booker T. and the MGs at Stax, the Hi-Records Rhythm Section, the Funk Brothers at Motown, the Wrecking Crew, etc… we've got the label, the studio, and a wicked house band," Jimmy says. "I handle the band, the arrangements, and the production while my partner extraordinaire, Goat (long-time sound engineer for Maceo Parker, the Meters, the Neville Brothers, Steel Pulse, Big Freedia, Soul Rebels) handles all the engineering and other technical matters. He is the real deal! We live three blocks from one another and we create on a constant basis."
Despite Jimmy's foundation in vintage R&B and Rock & Roll, his goal for Special Man Industries Records is not nostalgic. "I'm making new music with my band and all these artists," he says. "I wasn't raised on going to concerts and having dreams of doing arena tours. I was raised on RECORDS and dreamed of being like Tom Dowd, George Martin, Eddie Kramer and Jimmy Page!" Jimmy and Goat are recording Brass Bands, Rock & Roll, Cajun and Zydeco, Mardi Gras Indians, R&B, Hip Hop, Punk Rock, and all kinds of other sounds bubbling up from the fertile Louisiana ground. "The music we specialize in is the music of the New World, American Music." King James explains, "A proper study of the New Orleans canon reveals that it is the foundation of all the styles regarded as essentially American Music, which is what we specialize in; that is what I am an expert on. That is what I play."