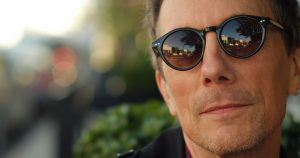 Tall Tales and Alibis is the seventh solo album from Steve Barton, founding member of the revered band, Translator. A sprawling tour de force rich with sonic invention and poetic expression, it's a showcase for Barton's multifaceted gifts and his best work yet. The release is an ambitious TRIPLE album, filled with brand new songs from Barton.  Tall Tales and Alibis is being released March 2, 2018 on Sleepless Records.
"I moved to Portland, Oregon about two years ago," explains Steve." It is an incredibly good place for me to live – as soon as I got settled in, songs just started to pour out of me. Originally, I wanted to release three separate records on the same day. That idea morphed into one triple set. If it were a movie, it would be my technicolor daydream shot in black and white".
The three albums which make up Tall Tales And Alibis each have their own unique feel. Album One is filled with more upbeat songs, and the first of three piano songs. Album Two captures a moody vibe – and is all sung in Barton's lower register. There is a cover of "In The Wee Small Hours Of The Morning" and a slow quiet dark version of Steve's Translator hit "Unalone." He plays and sings everything on these two records himself, and produced these tracks at his studio in Portland.
The third album is a band effort recorded in Los Angeles with a core group specially hand-picked for these sessions. The line-up includes Dave Scheff from Translator on drums, Pete Thomas from Elvis Costello's Attractions on drums for three of the songs, Nelson Bragg (Brian Wilson band) on percussion, Derrick Anderson (Bangles) holding down the bass spot, and co-producers of these sessions Marvin Etzioni and Willie Aron on guitars, keyboards and vocals. There is a cool cover of the Rolling Stones "Dandelion," as well as the treat of having had the band play live in the studio on all cuts. One of the pivotal songs in Steve's current live set is from this third disc – "She Is The Girl."
Tall Tales And Alibis opens with the rolling acoustic stomp of "How Can I Believe", and from there it weaves its way through songs of rain, clowns, silent films, roses, love, lust, shadows and other clues – all balanced on a tightrope in a hurricane. As Steve puts it in the rocker "Levitate The Pentagon": "oh no, it's not too late / it's our destiny to tempt our fate." Indeed.
Steve Barton's previous solo albums include The Boy Who Rode His Bike Around The World, Charm Offensive, Flicker Of Time, Gallery, Projector and the one-off duo album with Translator's drummer Dave Scheff, New Blue World. Translator began in Los Angeles in 1979
and continues to play live and record with all four original members to the present day. After forming, they relocated to San Francisco in 1980 and released 4 albums on the 415/Columbia label between 1982 and 1986. The group is best-known for Barton's song "Everywhere That I'm Not". Their latest album, Carriage Of Days was released in 2017.