SWANS ANNOUNCE REMASTERED REISSUE OF THE GREAT ANNIHILATOR
 "Swans live is performance art of the highest order" – LA Music
"…a mighty devotional racket" – The Scotsman
"…two and half hours of shamanic magic that uplifted and cleansed the audience" – Trebuchet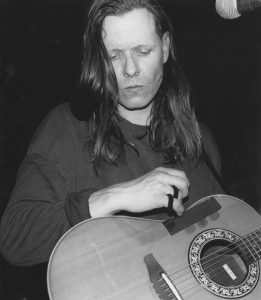 SWANS have announced a remastered reissue of their ninth studio album, The Great Annihilator, out on April 28 on Young God Records / Mute (outside N America) plus further dates for their spring tour of Europe and the U.K.
The Great Annihilator, originally released in 1995 and described at the time as "…a majestic symphony of haunting melodies and shifting moods" [SF Bay Guardian], will be released on double vinyl and as a 2xCD set. Both the vinyl (in the form of a download code) and CD will feature Drainland, Michael Gira's debut solo album recorded at the same time as The Great Annihilator.
The album was entirely remastered by Doug Henderson, but only after Bill Rieflin ("honorary Swan forever") recently tracked down DATs and cassettes containing unmastered mixes from the sessions. Michael Gira describes the discovery as "a revelation of great sonic effect". Talking about the recording, Gira said "I lived in a tent in a mosquito infested studio right next to Cabrini Green in Chicago for what (?) something like 3 months, rarely leaving. Band members and Jarboe and Bill Rieflin etc came and went, and somehow we crafted this thing into what it became."
Listen to https://younggodrecords.com/products/great-annihilator-2017
The Great Annihilator line-up features: Michael Gira, Jarboe, Bill Rieflin, Algis Kizys, Norman Westberg, Clinton Steele and Ted Parsons.
The Great Annihilator is the latest is a series of Swans remastered reissues. It was preceded by the first vinyl re-release of their debut long player Filth along with a deluxe 3xCD version of Filth including the original album, Swans' debut EP, the Body To Body collection and a generous selection of vintage live recordings. This was followed by White Light from the Mouth of Infinity/Love of Life: the two albums came as a limited vinyl box set, presented in the original restored artwork. The 2500-micron black lined box – with original logo in silver foil block in black paper – also including two rare posters, a CD of outtakes, rarities, and contemporaneous live recordings and a download code for both albums. White Light from the Mouth of Infinity / Love of Life was also released as a 3xCD set (including the bonus disc). Both are available digitally and as vinyl releases separate from the limited box set.
SWANS EUROPEAN TOUR DATES – 2017
March
3 March – GR Athens, Gagarin 205
4 March – GR Thessaloniki, Block 33
6 March – FI Helsinki, Tavastia
8 March – NO Oslo, Rockefeller *
9 March – SE Stockholm, Kraken Sthlm*
11 March – DK Copenhagen, Grey Hall*
12 March – DK Aarhus, VoxHall*
14 March – CZ Brno, Fleda Club*
15 March – SK Kosice, Taba Ka Kulturfabrik*
17 March – LT Vilnius, Legendos Klubas*
19 March – UA Kiev, Sentrum*
22 March – RO Cluj-Napoca, FORM Space Club*
23 March – RO Bucharest, Control Club*
24 March – MK Skopje, MKC*
25 March – RS Belgrade, Dom Omladine*
27 March – HR Rijeka, Pogon Kulture*
28 March – CH Zürich, Rote Fabrik Ziegel oh Lac*
29 March – DE Dortmund, FZW*
30 March – BE Ghent, Kompass Klub*
31 March – NL Amsterdam, Paradiso Music Hall*
April
1 April – NL The Hague Rewire Festival
May
16 May – TR Istanbul, Zorlu Performing Arts Center
18 May – UK Glasgow, Oran Mor*
19 May – UK Aberdeen, The Lemon Tree*
20 May – UK Leeds, Stylus – Leeds University Union*
21 May – UK Sheffield – The Plug*
24 May – UK Birmingham – The Asylum*
26 May – UK Bristol – Trinity Community Arts*
27 May – UK London, Roundhouse* – http://bit.ly/2enJyG1
28 May – UK Manchester, Victoria Warehouse* – http://bit.ly/2dSv18R
30 May – RU St Petersburg – Kosmonavt*
June
1 June – RU Moscow – Red Club*
2 June – ES Barcelona – Primavera Sound Festival
4 June – FR Biarritz, Atabal*
6 June – FR Angoulême, La Nef*
7 June – FR Rouen, Le 106*
9 June – P Porto – NO Primavera Sound Festival
Aug
18 Aug – US Las Vegas, Psycho Festival
20 Aug – US Las Vegas, Psycho Festival
*with Little Annie
The Glowing Man is out now on double CD, deluxe triple gatefold vinyl and double CD/DVD format
Listen to 'The Glowing Man' here: https://open.spotify.com/track/1m6vIOEsts2c7QxZw9XG0l
Listen to 'When Will I Return' here: https://youtu.be/Pa0a5WYTB9g
Listen to 'Finally, Peace' (edit) here: https://youtu.be/oHem0nwPZYk
https://www.facebook.com/SwansOfficial/
younggodrecords.com