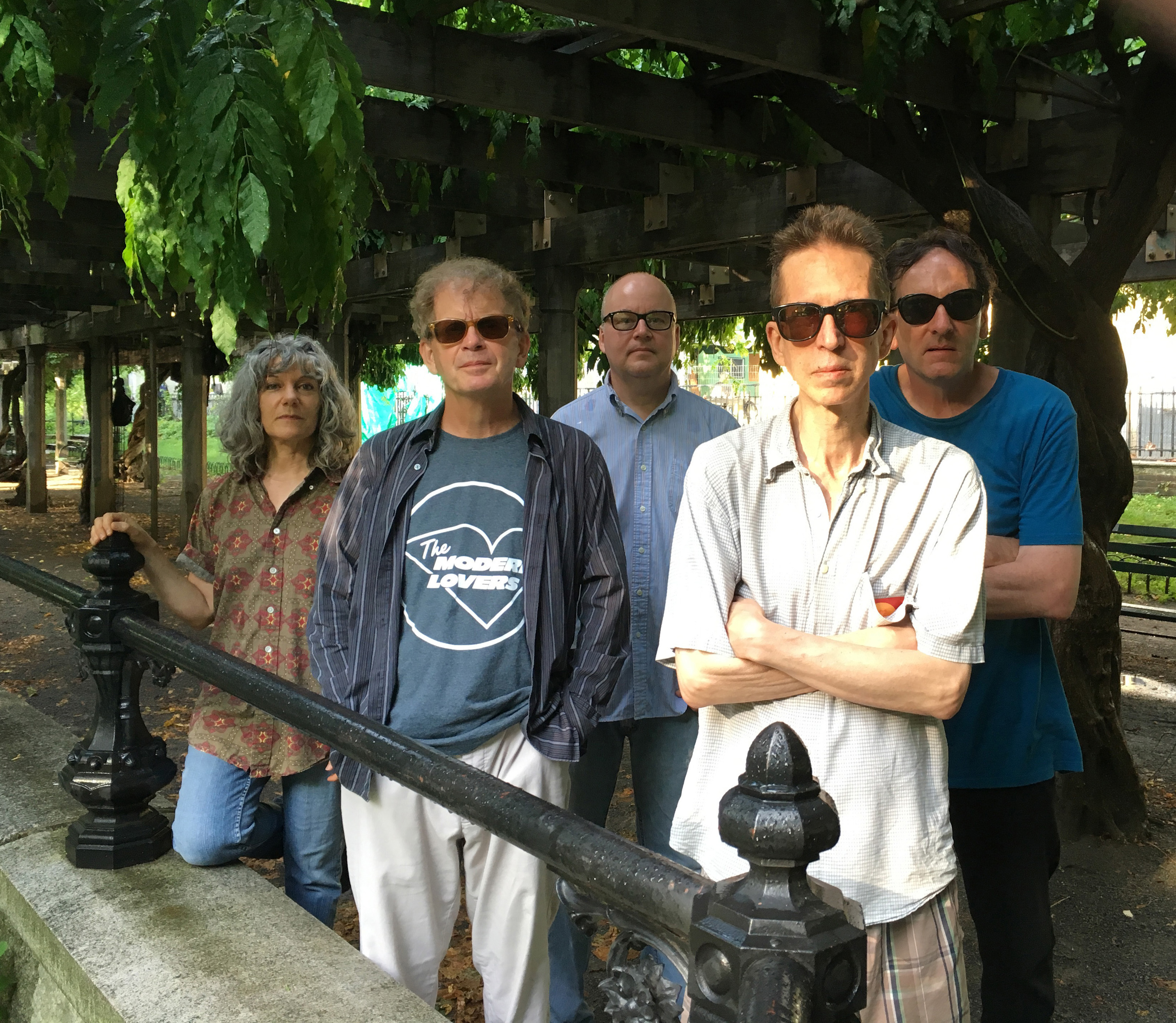 New Jersey-based avant-pop pioneers the Feelies will pay tribute to one of their major influences, the Velvet Underground with an all-Velvets set October 13 at White Eagle Hall in Jersey City, NJ. This is being done in conjunction with the curators of "The Velvet Underground Experience: Art & Music Exhibition" being mounted at 718 Broadway, New York, NY 10003 October 10 – December 30.
The curator of The Velvet Underground Experience originally contacted the Feelies through veteran concert promoter Todd Abramson to perform at the exhibition space this past Spring. When the date and venue for the exhibit changed all parties agreed the Feelies' tribute would be staged at a separate location.
Feelies co-founder/rhythm guitarist Bill Million remarks: "The Velvet Underground were little known out in the suburbs, in our neighborhoods. They had an energy, even in their quieter songs, that we found not only rare, but also very appealing. It was a different kind of energy then you would hear with the Stooges and the MC5, other bands we were listening to. You would really only hear any of this music if you listened to WBAI or WFMU. This was a band making the coolest music out there, and no one around us talked or knew about them. For Glenn and I, this helped form a bond that still remains strong to this day.
Their repetition and their approach to rhythm and drumming are some of the things that inspired us to start playing as a band and writing our own music. Personally speaking, it was Sterling and Lou, along with Ron Asheton, that inspired me to pick up the guitar, so having toured and played with Lou was a great thrill and honor. When we play their music, it's really to celebrate and to honor that very early inspiration."
Lead guitarist and singer Glenn Mercer continues: "The Velvet Underground, along with the Stooges, were a touchstone for Bill and I when we first started playing together, so we have a deep connection to their music. We spent a lot of time jamming on their songs and it would often put us into a particular zone, so I think it will be a lot of fun to revisit that." Glenn adds: "We're planning to play a few VU songs that we've never played before."
Formed in Haledon NJ in 1976, The Feelies have now released six albums- including their critically acclaimed and influential debut Crazy Rhythms, which was voted 49 in the top 100 albums of the 1980s by Rolling Stone magazine and chosen by Spin Magazine as #49 of the best alternative records of all time. Their music has left an indelible mark on the landscape of rock and roll. Supporting the release of their first four albums the band appeared on the The Late Show With David Letterman and in concerts with The Patti Smith Group, REM, and Bob Dylan as well as touring with Lou Reed.
In 2008, the Feelies re-united after a 17 year hiatus to open for long time admirers Sonic Youth at Battery Park and then resurrected their tradition of playing low key gigs at strategic intervals throughout the year rather than doing lengthy tours. In 2009 Bar/None re-issued Crazy Rhythms and The Good Earth, this being the first band-sanctioned CD release of the former. In 2011, they released a new studio album Here Before of which England's The Wire enthused, "Here Before picks up as though they'd never left. The second line- up is fully present, and the basics of their sound has filtered through so many younger bands (from Yo La Tengo to SF Seals to The Chills) that the music possesses a great kind of faux- familiarity."
In honor of the group's 40th Anniversary Bar/None Records re-released their third and fourth albums, Only Life and Time for a Witness in early 2015. In 2017 they
released In Between their first new studio album in over 6 years, produced by Mercer and Million with most of the recording done at Glenn's home studio in Haledon, NJ.
The Feelies continue to regularly perform live. Their music has been featured in the films Married to the Mob, Something Wild, Prelude to a Kiss, The Truth About Charlie, The Squid & the Whale, Ricki and the Flash and most recently The Miseducation of Cameron Post.
https://www.facebook.com/The.Feelies/
http://www.thefeeliesweb.com