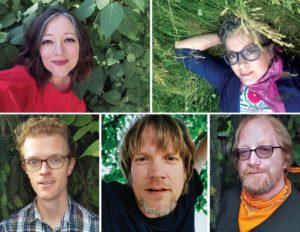 The Flat Five returns! Chicago's beloved band of in-demand music biz ringers – Kelly Hogan and Nora O'Connor (Neko Case, The Decemberists), Scott Ligon and Casey McDonough (NRBQ) and Alex Hall (J.D. McPherson) – are releasing their second album of twisted sunshine vocal pop.  Another World is being issued by Pravda Records/Augiedisc Records on November 13th on CD, 12" vinyl LP, digital download and via streaming platforms.
Another World was produced by band member Scott Ligon and The Flat Five. It was recorded/engineered by Flat Five drummer Alex Hall at his popular Chicago studio, Reliable Recorders with some additional sessions done at Wilco's gearhead paradise, The Loft, engineered by Mark Greenberg.
The charms of this band are manifest. These guys are all hardcore vocal buzz junkies, and share a vast range of influences from The Free Design to The Three Degrees to Captain Beefheart and a restless desire to explore a song from the inside out: to see just how far out it'll go. This sophomore album showcases The Flat Five's trademark keen musicianship and their slightly subversive sense of humor. It's marked by the playful wide-eyed sweetness that colors all their music, tempered with their appreciation for how freaking good it feels to listen to a beautiful bummer on repeat sometimes. Like Charles Schultz said: "Happiness is a Sad Song."
All the new album's songs were written by Scott Ligon's older brother, the impossible-to-pigeonhole mad musical genius, Chris Ligon whose songs have been featured on the hit Showtime series Weeds and the Dr. Demento Show. This follows the precedent of their acclaimed 2016 debut, It's a World of Love and Hope, an album that scored big with critics and fans alike, including high-profile Flat Five afficionados like Nick Lowe and Jeff Tweedy.
Another World took almost two years to complete from start to finish, as band members had to steal recording time from their respective busy schedules performing and touring with other projects. This is the way it's been since the group began as a "musical snowball" in the mid-aughts.
Scott Ligon was a wunderkind from Peoria who cut his teeth on blues and jazz and was hand-picked by Terry Adams to front the latest version of NRBQ. Kelly Hogan was a punk-rock torch singer with Atlanta's The Jody Grind, who made a name for herself in Chicago as a solo performer and versatile session singer with bands such as The Mekons and Tortoise. These two were thrown together for a last-minute gig and found that they had an immediate and effortless vocal blend. They began singing together regularly as a duo and soon added Southside Chicago pals.
Nora O'Connor was famous for her laser beam harmonies with Andrew Bird and Iron & Wine and her fearless ability to master any new instrument she's handed; Casey McDonough (the real "Swiss Army Knife" of the band and a true ninja to those in the know) was tapped to share lead vocal duties with Brian Wilson on the 2017 Pet Sounds tour…with no rehearsals – oy! The final addition was ace drummer Alex Hall, a fixture at Chicago's fabled Green Mill jazz club with The Fat Babies, The Modern Sounds, and Hammond whiz Chris Foreman's combo.
But as soon as The Flat Five was formed, they were kept apart by their ongoing recording and touring obligations with the acts listed above, and other heavy-hitters like Mavis Staples, Jakob Dylan, Robbie Fulks, Alejandro Escovedo, The New Pornographers, and Linda Gail Lewis. The Flat Five even became locally famous for playing only once a year! But some kind of musical magnet-pull kept bringing them together and finally Another World got made.
So here's some lift. Some buoyancy. A little bit of hope. Things we need now more than ever.
Come November, we're all gonna be ready for Another World.