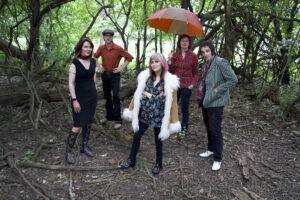 Led by drummer Brad Elvis (Screams, The Elvis Brothers, Big Hello, The Romantics) and vocalist/guitarist/saxophonist Chloe F. Orwell (Big Hello), Chicago's The Handcuffs will be releasing their fourth studio album, Burn The Rails. The 13-song album was tracked at Kingsize Sound Labs, Chicago with producer/engineer Mike Hagler (Wilco, Neko Case, Billy Bragg, Mavis Staples, My Morning Jacket, The Mekons). Burn The Rails is being released by Pravda Records June 3 on CD, digital download and via streaming platforms and 12" vinyl LP later this year.
For the new album, The Handcuffs found inspiration from the heady, analog days of early 1970s rock & roll, weaving together elements of glam, indie, garage, art and blues rock. Inhabiting some of the same musical turf as T-Rex, Mott The Hoople, Roxy Music, The Raconteurs, P.J. Harvey, Led Zeppelin, and Patti Smith – all filtered through a modern lens – they deliver bold, sexy songs with memorable melodies and unexpected twists.
Guest keyboardist Morgan Fisher (Mott The Hoople) demonstrates his synthesizer and piano prowess on a couple of tracks on the new LP. The relationship with Fisher, a musical hero of the band, began after singer Orwell's rave review of Mott The Hoople's 2018 reunion tour went viral on social media, attracting the attention of Fisher, who got in contact. From there a creative collaboration was sparked, in-spite of an ocean separating the now real-life friends.
Finishing the record during the peak of the pandemic and lockdown, gave several of the songs an inadvertent anthem-for-the-times feel – with themes of love and loss, heartache and hope, and even the great ideological divide that was as omnipresent as the virus.
Elvis and Orwell formed The Handcuffs from the ashes of Big Hello, their first band together, which released three indie label records and toured from coast to coast. Elvis' career also includes a few major label go-arounds, arena tours, and a backstory that will be documented in a new autobiography in the near future. The duo's eagerness to explore new sonic territory and evolve into an entity that aligned more with their ever-expanding influences and broad range of musical tastes prompted a change. The Handcuffs began as primarily a studio project, in which Elvis and Orwell wrote and recorded an abundance of material. During the process, they realized that they missed the live band experience, and so The Handcuffs as recording artists and a dynamic live band was born. Completing the line-up are bassist Emily Togni, lead guitarist Jeffrey Kmieciak, and keyboardist Alison Hinderliter, all of whom originate from different parts of the country but have made Chicago their home.