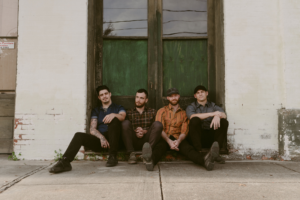 The Rayo Brothers will be releasing their third long player, Victim & Villain, March 29 on Louis Michot's Nouveau Electric Records imprint. The new album was recorded at Maurice, Louisiana's renowned Dockside Studio by Grammy-winning engineer Tony Daigle who also mixed the set. Michot of Grammy-winners Lost Bayou Ramblers co-produced Victim & Villain with the Brothers' Jesse Reaux.
The songs on Victim & Villain are deeply rooted in folk and old timey Country Music traditions; they started out as simply lyrics and melody, voice and acoustic guitar. In the recording studio, the band then fleshed them out with tough-rockin'full-bodied electric guitars, Bluegrass style banjo, Daniel Reaux's lead vocals and signature sibling harmonies with Jesse and pedal steel guitar to bring out their C&W influences. Meanwhile, "Rye Whiskey" has a distinct Cajun flair featuring another set of brothers as special guests – Andre Michot on lap steel and Louis on fiddle. Nikia Yung's beautiful string arrangements add amazing depth and texture to "One Good Day," "Darkroom" and the title track.
The theme of many of Victim & Villain's numbers is recognizing and accepting life's tougher realities, and devising positive ways of coping with them. The protagonists of these songs confront their own weakness, dishonesty and darkness and make the decision to address them rather than seeking a scapegoat or an escape; they realize that their relationships are flawed. They accept that suffering is an inevitable part of life but choose to avoid becoming embittered; they choose the high road – to create a life worth the pain endured. All the material on Victim & Villain lies somewhere on this spectrum of self-realization and personal growth, most especially the title track.
Brothers Daniel and Jesse Reaux began performing as The Rayo Brothers at a songwriting competition mounted in their home town of Lafayette, Louisiana in 2012. Recruiting Lance Kelehan on drums and Jordan Ardoin on bass, they recorded their debut album Gunslinger in 2014 to significant critical acclaim, followed three years later by Take You For A Drive. The group regularly appear at festivals all over the Southern U.S. including the renowned Jazz & Heritage Festival in New Orleans and music venues throughout the region.
rayobrothers.com
facebook.com/rayobrothers
youtube.com/therayobrothers
instagram.com/rayobrothers
twitter.com/rayobrothers
spotify