The Royal Arctic Institute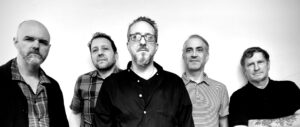 From Catnap To Coma is The Royal Arctic Institute's first full exploratory mission in their current five-piece incarnation. The album was recorded and produced by James McNew (Yo La Tengo) in the historic Neumann Leather Factory in Hoboken, New Jersey. The EP is being released February 4th, 2022 by Already Dead Cassettes and will be available on cassette (duh!), as a paid download, and on streaming platforms.
At present, The Royal Arctic Institute comprises five musicians who have played extensively with other groups and/or as backing/session musicians:  drummer Lyle Hysen (Das Damen, Arthur Lee), guitarists John Leon (Roky Erickson, Summer Wardrobe, Abra Moore) and Lynn Wright (And The Wiremen, Bee And Flower, Shilpa Ray), bassist David Motamed (Das Damen, Two Dollar Guitar, Arthur Lee, Townes Van Zandt), and keyboardist Carl Baggaley (Headbrain, Gramercy Arms).
All the pieces were created communally, deconstructing then reconstructing of material initially composed by guitarist John Leon. McNew recorded the band in a live setting with minimal overdubs or digital magic.
Tracks like "First Of The Eight" and "Ghosts Of The Great Library" are powerfully marked by the distinctive playing of second guitarist Lynn Wright, while their musical take on a side-effect of COVID 19, "Anosmia Suite," showcases David Motamed powerful bass work.
Leon and Hysen originally formed The Royal Arctic Institute in 2016 along with OG bassist Gerard Smith. This line-up recorded two albums before disbanding and subsequently reforming as a quintet in early 2020 at the outset of the SARS-COV-2 pandemic.
Catnap To Coma: "Do ghosts ever sleep? Yes, but not the sleep of men; theirs is an emptier type of slumber. Our sleep is always full: From catnap to coma, it brims over. Those hollow ones have thin, dangerous dreams." – B. Catling