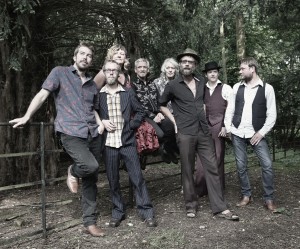 Medicine for the Soul is the sophomore release from the U.K.'s The Vagaband, one of the foremost acts on England's vibrant roots scene. The self-produced album is the follow-up to their much praised debut Town & Country and is being released on CD, gate-fold vinyl and via digital download on their own Eggsong Recordings label.
The Vagaband are an eight-piece ensemble based in Norfolk, UK who create distinctive song-centered roots music. Performed on a rich and exotic array of instruments including flugelhorn, mandolin, marxophone, clarinet and pedal steel, the songs of singer/guitarist José McGill and pianist Greg Cook take the listener on a trip rom vaudeville and Victoriana through the horn-driven soundtrack of New Orleans and on to the open landscape of reflective Americana. There is however an underlying Celtic-Britishness flowing throughout Medicine for the Soul.
In "The Whistling Song" the band announces: "There's a time to dance, a time to die;' this central theme underpins the album throughout. Both celebratory and reflective, the initial optimism gradually gives way to darker tales inhabited by drunks, dead-end seaside towns and troubled souls. The centre piece of the album is title track, "Medicine For The Soul," an ode to late Texan songwriter Townes Van Zandt with cinematic arrangements reminiscent of Pink Floyd's "Atom Heart Mother," or Radiohead's 'Karma Police'. A quirky addition to the album is "Gabrielle," a song from the canny of 90's Alt Rock anti-heroes Ween; this unique take on the song gives some sense of Vagaband's energy-charged live sound. The album closes on an ultimately sober, contemplative note with "Cisco Wine" and "A Different Drum." Their last album Town & Country received some great notices:
"Stunning" Q Magazine
"Breathtaking… haunting" americanrootsuk.com
"Masterly" Americana UK
"Exceptional… a rich concoction of Americana, swing, ragtime, blues and rock" Folk Radio UK
Since 2010, The Vagaband have amassed a devoted following across the UK festival scene and beyond. Appearances include Glastonbury, Secret Garden Party, Bestival, Camp Bestival, Croissant Neuf & Maverick Festival (headline spot two years running). The Vagaband's strength as a live force is the result of a well-oiled touring act who cut their teeth during early years as a street band. While able to record quality-produced albums, onstage the band's personality comes to the fore.
After a summer touring Europe and the UK festival circuit, the band played a number of shows throughout late 2014 and continue touring in 2015 in support of the new album.