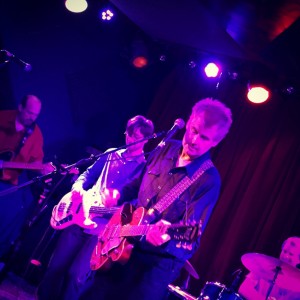 TimeChange Records will issue a newly-remastered edition of the Boatmen's debut album, You and Your Sister, on November 28 to mark the 25th anniversary of its release. Along with much improved sound, the CD will feature the 2003 remix of "Change the World All Around", new remixes of "Decision by the Airport" and "The Street Where You Live", and three previously unreleased bonus tracks as well as new liner notes from NPR's Ann Powers. The Vulgar Boatmen still play regularly around the Midwest and record-release shows are planned for Chicago and Indianapolis.
In the early 1990's, the Vulgar Boatmen's first two albums, You and Your Sister and Please Panic, garnered accolades from virtually every major music publication in the country, despite being barely available on the tiny Record Collect and Safehouse labels. The group's unique working arrangement (two distinct lineups, located 800 miles apart, fronted separately by songwriters Robert Ray and Dale Lawrence) received a lot of attention – but so did their style, a melodic hypno-R&B, compared to everyone from Buddy Holly and Smokey Robinson to Young Marble Giants and the Velvet Underground.
The band toured extensively in the US and Europe. Their songs were heard on both college and commercial radio – especially "Drive Somewhere", a surprise hit on Chicago's WXRT. In the 1992 Option Magazine Readers Poll, Please Panic placed fifth in the Best New Album category. In 1995, critic Bill Wyman called You and Your Sister the best record of the last ten years. The following year, his colleague at Salon.com Charles Taylor named Please Panic his all-time favorite album. In 1995, the Boatmen made their major label debut with Opposite Sex, released in Europe on Blanco y Negro/EastWest. It too received glowing reviews from the British press, but label politics at Elektra kept the album from ever getting a stateside release. In 2003, No Nostalgia issued Wide Awake, a 21-track anthology chronicling the band's career.
". . . the album you want to hear coming out of the house on a summer night when you're out back, looking at the stars. It's rock 'n' roll with all the windows opened."
– Bill Flannagan, Musician
"Tunes very '50s in their casualness, present-day in their insistence on doubt."
– Greil Marcus, The Village Voice
"Coming off like the Velvet Underground recording a Stax tune in a honky-tonk, 'You Don't Love Me Yet' does the best job of crystallizing the Vulgar Boatmen sound. In my book, it's one of the finest songs of the '90s."
– Rick Cornell, No Depression
"At their best, the Vulgar Boatmen capture the fearful lurch of the stomach that precedes calling the object of a crush for the first time."
– Gina Arnold, Rolling Stone
"Rhythm is central to the Vulgar Boatmen sound – not rhythm as in James Brown, but rhythm as in Elvis."
– Thomas Lasarzik, Howl
"A down-home version of the Velvet Underground but with no trace of that band's New York art damage, more intimate than remote, and with an overt love of songs (Stax/Volt, Chicago rhythm & blues, country tunes, post-Beatles garage rock, and the propulsive drone of bands like the Feelies and New Order)."
– Kyle Barnet, Perfect Sound Forever
"The extraordinary grace of Indiana's contemporary rock scene, although dominated in the popular mind by the alpha and omega of Hoosier hoser John Mellancamp and raw nerve Lisa Germano, owes more in my reckoning to the quiet strivers in and around the Vulgar Boatmen. The intricate path by which a quiet college student from a late-'70s punk joke called the Gizmos wound up leading the Midwest branch of a Siamese-twin group that records out of Florida does not need to be repeated here. I can only testify that Dale Lawrence, leader of the Indiana Vulgar Boatmen, is one of the most exceptional – and criminally uncelebrated – musicians I've ever encountered."
– Ira Robbins, Trouser Press
". . . a collection of simple, infinitely listenable and mysterious pop melodies, that suggests what it means to reach adulthood and still believe that love is around the next corner, that a pop song can bear the weight of your world and, more important, change it. The Boatmen don't see the romantic idealism of pop as youthful folly; they see it as the Grail."
– Charles Taylor, Salon
"Buddy Holly would've been proud."
– Ira Robbins, Trouser Press Record Guide