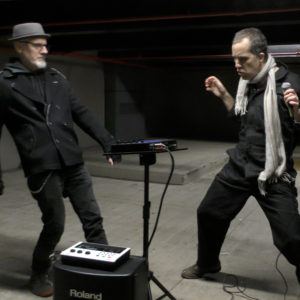 Sorry About Tomorrow is the debut album from NY/NJ-based ElectroPunk duo This Wilderness. The album was recorded at Upper Studio in New Jersey, produced by the band's main instrumentalist Jim Coleman of Cop Shoot Cop renown. Sorry About Tomorrow is being released May 4 by the Wax & Wane label.
This Wilderness' first recorded effort grapples not only with angst and lost hopes, but also the fearless effort to live on in these times of political, personal, and social disillusionment. Deep grooves, seductive melodies and unnerving lyrics speak of identity, loss, celebration, fear, and the absurdity of existence. This Wilderness is a thrilling and vital expression that feels completely personal and intensely universal.
Singer Robert O. Leaver's soulful, feral vocals and compelling physical approach to each song work in tandem with Coleman's full spectrum of uncompromising, genre defying sonic mischief. They were joined in the studio by Coleman's former band mate Phil Puleo who recently completed a seven-year stint in Swans.
Leaver and Coleman first met at a New Year's Eve party as 2015 became 2016. Sharing a gravitational pull towards darkness and an irreverent humor, the two musicians have emerged as This Wilderness. Leaver had been working on acoustic based music as Birdthrower (recently recording with Ben Harper), as well as doing provocative public art performances (Crawling Home, Hole Earth and Man Down). Coleman had a more electronic pedigree, crafting samples and electronics for the infamous industrial rock band, Cop Shoot Cop, then releasing albums as Phylr, Here, Jim Coleman and J-CO.
Since forming, This Wilderness has had audiences riveted by their live shows in and around NYC for the past couple of years. It is an unforgettable experience merging old New York punk, folk and industrial realism – catapulting the audience into a disturbance of hilarity and personal reckoning.