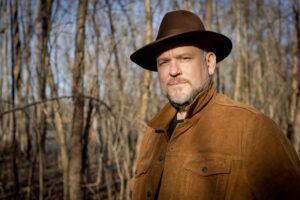 Minnesota-based singer/songwriter Tony Cuchetti is following his debut studio album, Hid It On The Sly (2020), and Live From Drum Farm Studio (2020), with Freer Street, a collection of original songs punctuated by a couple of beloved cover tunes. Cuchetti returned to home turf at Drum Farm Studio in Menomonie, WI to record, joined by fellow Minnesotan Erik Koskinen, who produced and played both rhythm and lead guitar, as well as co-writing many of the tracks. Through recording several projects at this studio, Cuchetti became one of the first artists signed to studio owner John Richardson's recently formed Farm To Label Records which is releasing. Freer Street in July on 12" vinyl LP, CD, digital download and streaming platforms.
The album's title refers to Cuchetti's late grandfather who lived on Freer Street in Detroit, where much of Tony's family hails from. An old black and white, sepia-toned picture of him is the album's cover. "Just the vibe of the album made me remember good things about hanging out with him and some of the stuff that he taught me," says Cuchetti, "so I thought it was fitting."
Tony and Erik gathered seasoned musicians, and friends Blair Krivanek on lead and rhythm guitar, bassist Nick Salisbury (Ryan Bingham, The Gaslight Anthem's Brian Fallon), drummer JT Bates (Taylor Swift, Michael Stipe, Trampled By Turtles, Bon Iver), and Gregg Inhofer (Bob Dylan) on Hamond B3 organ. They recorded the majority of the album with everyone in one room, live-in-the-studio to capture as raw and spontaneous a feel as possible. There were minimal overdubs or post-production touches.
While he inherited a love of many genres from his musical parents and siblings, his discovery of Country and Folk inspired his songwriting development, including embracing that moment of truth standing in front of an audience and hoping to make an impact. As Tony explains, "Music is so powerful in its effects on people. I think people, intrinsically, feel way more than they think they do or give themselves credit for." Storytelling is key to Cuchetti's way of writing, following in the footsteps of songwriters like Kris Kristofferson, Guy Clark, and Townes Van Zandt, who combined compelling details and narratives with music that created a visceral emotional connection with their listeners
Many of Tony's songs on Freer Street draw on his own experiences as a father, and family member as well as a songwriter and performer. A discussion with his own father for instance inspired Cuchetti to write "The After" which questions putting off what might bring us happiness now, later, because sometimes later may never come. Coincidentally Tony found that the song structure complimented the lyrics theme as it consistently builds, as if "you're rolling down a hill, slow at first, then increasingly building up speed until you almost have the sensation that you may very well become airborne!"
On the other hand "Stubborn Bones" sees him in the role of observer. "The theme of the song", explains Tony, "came from seeing how people were treating each other during COVID lockdown, what happened to George Floyd and how people reacted in the aftermath of his killing." Orchestral arrangements lend an element of hope to the proceedings. Cuchetti observes: "It almost has a trance or mantra feeling to me, musically, but with the layers between the vocals and the instruments, it becomes a really beautiful, organic piece." The track also features Aby Wolf's distinctive tandem lead vocal.
Tony also developed covers of select songs that "fit the album's vibe." "Convince My Heart" was written by a former Nashville songwriter and family friend, Tim Probst, who loomed large in Cuchetti's early life and often encouraged him to keep at songwriting. Probst's daughters were delighted to see Cuchetti keep their late father's music alive and record one of his compositions for the album. The album's other cover, "Lay It On Me", was written by Eddie Hinton, and survives solely as a demo that features his heart-wrenching vocals and soulful piano playing. Cuchetti comments, "I was drawn to this song as soon as I heard it and it's easily one of my favorite tracks on the album for sure."
Tony Cuchetti came by his skills as a singer, writer and player the hard way – from extensive road work from an early age. "My parents decided to start a family act in the late 60s, and started playing malls, fairs, conventions, and even Vegas in the era of the Jackson 5 and The Osmonds. We had the bus and the costumes. When I came along, I was born into it and toured for the last ten years of the group. That's pretty much how I grew up, on the road for ten or eleven months out of the year. I remember it fondly. It was a pretty tight-knit production, and we were self-contained as a family." Cuchetti continues to be a tireless gigging musician playing north of 200+ shows a years both solo and with his full band.
The songs from Freer Street touch base with core values and core questions to reach out to audiences, but in the end, Tony Cuchetti builds songs in the hopes of finding those of like mind. He concludes, "What sounds good and what makes me feel good, that's how I operate."