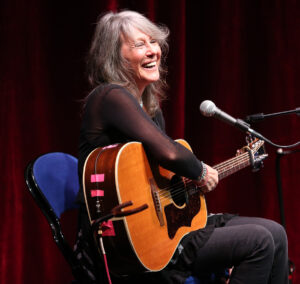 Vashti Bunyan's new memoir, Wayward, Just Another Life to Live, has been made available in hardback for the United States by the publisher White Rabbit (Orion), with a revised edition being issued in paperback later this year.
Vashti's life and journey is the stuff of myth. Some thirty years after abandoning her career as a musician and songwriter, Bunyan's 1970s album Just Another Diamond Day was embraced by the young artists of the emerging Avant-folk movement of the early 2000s, and she was invited to collaborate with the likes of Animal Collective and Devendra Banhart. Just Another Diamond Day was re-issued in USA in 2004 to overwhelming critical acclaim. Vashti then proceeded to write and record two ecstatically received albums of masterfully gentle songs, Lookaftering (2005) and Heartleap (2014) and to tour internationally.
Next, after another hiatus, came this autobiography Wayward, Just Another Life to Live, fulfilling a promise she had long ago made to her children, and re-telling what had become one of the great English counter-culture myths of the 1960s.
After an unconventional childhood in post-war London, she was ejected from art school in 1964 for preferring to write songs instead of drawing and painting, Vashti was discovered by the Rolling Stones' manager Andrew Loog Oldham, singing her songs in London. She was given a Jagger-Richards song to record as a single for Decca (Some Things Just Stick in Your Mind), and then her own composition (Train Song) came out a year later on Columbia. Neither caught much notice, but she went on to record several further tracks for Oldham's Immediate label. (These were never released and were only finally heard in 2007 when they were included on her double album Some Things Just Stick In Your Mind – Singles and demos 1964 – 1967.)
In 1968, in despair and frustration with the music business Vashti left the city behind for good, giving up everything and everybody she knew, starting off from London to travel with a horse and a wagon to the Isle of Skye off the west coast of Scotland, where she hoped to build a new life. It became an odyssey of discovery and heartbreak, contrasting the joy of freedom with the trudge of everyday reality, sleeping in the woods, fighting freezing winters and homelessness. This journey took two summers and one winter of travelling and Vashti wrote songs along the way, the lilting lyrics and guitar conveying innocent wonder at the world around her, whilst disguising a deeper turmoil under the surface. Never intending to record these songs, they were her way to keep the harsher realities of life on the road at bay, and to keep her dreams alive.
Halfway through the journey she had a chance meeting with Derroll Adams, who told her to have faith in her music and not to "hide her light". Vashti took the songs of her journey to producer Joe Boyd (Nick Drake, Pink Floyd, Incredible String Band, Fairport Convention and later R.E.M. Maria Muldaur, etc.). A year later he recorded Just Another Diamond Day, inviting Robin Williamson of the String Band, and Dave Swarbrick and Simon Nicol from Fairport to accompany Vashti on some tracks. Robert Kirby, the arranger of Nick Drake's songs, arranged three of the tracks for strings and recorders.
The album was released in late 1970 to little attention, and so the failure to make any headway with her own songs led her again to reject the music world altogether.
However, unbeknownst to her, over the years Just Another Diamond Day succeeded in finding its own way to the notice of music lovers and record collectors, and after three decades the rediscovery of her work in 2000 brought Vashti a second chance to write music, record and perform once more, and now to be able tell her story in her own words for Wayward, Just Another Life to Live.
The lyrical nature of the writing reflects her songwriting style, spare, understated in places, but emotionally compelling. Illustrated throughout with photographs and her beautiful line drawings, the book has received much praise in the UK since its release in March 2022, and has found a place in many 'best of year' lists.