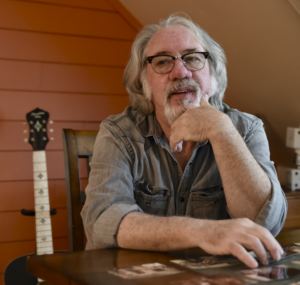 "Tomorrow's Classic Rock… Today"
Singer-songwriter Dan Montgomery will be releasing his seventh album Cast-Iron Songs and Torch Ballads April 7. It was recorded at The Shack in the Back studio in Memphis, TN with Montgomery and Robert Mache producing. It's being issued on 12" vinyl LP, digital download and via streaming services by Fantastic Yes Records.
It's not unusual for an artist to signal a "return to their roots" a few albums into a career. Usually this brings out mandolins, banjos, and variations of the folk tradition. Cast-Iron Songs and Torch Ballads is NOT that.
After six critically acclaimed Americana albums later, Montgomery reconnected with the raw rock he played in his youth. "I came into possession of a Danelectro, plugged it into an amp and new songs immediately came pouring out. And they were songs with riffs. It was wild to experience my current singer/songwriter self, meeting up with that Classic Rock kid from the past. But it felt totally natural. I knew right away that I had to book time and cut an album with my band while the moment was hot. And I did."
Dan's roots may not be folksy and down home but they are no less real. Coming of age in South Jersey in the early Seventies, he cut his teeth gigging at dances and parties when he was fourteen. "I was the youngest in the band," says Montgomery. "The first songs I played on stage were by Grand Funk, Bad Company, and Bachman Turner Overdrive. It was wild. At one of our gigs a guy showed up with a gun because our drummer was fooling around with someone's wife. And he was only a junior in high school!" The time and the place were ripe for Dan to begin his musical education, performing what is now called Classic Rock. "It was just new rock back then, pre-Freebird rock. I loved it."
Ultimately, Dan began writing his own songs and quickly found this environment to be unsuited for his compositions. "I became really serious about lyrics and that flew in the face of dancing and fist fighting so I began playing solo on the local coffeehouse circuit. It was great. I learned a lot about folk and country songwriting and eventually my electric guitar began to gather more and more dust."
Leading up to this release, Dan Montgomery has enjoyed what the Philadelphia Inquirer recently described as "a career of consistently stellar work." It has also been a career unafraid of tackling deep issues. "Few writers can write about tough times as unflinchingly," says the Memphis Flyer. "A dynamic songwriter," concurs Big Takeover Magazine. On Cast – Iron Songs and Torch Ballads, Montgomery takes things up a notch by using classic rock embellishments that make this his most commercial effort yet, creating a place where lyrical depth and radio friendly production exist in harmony.
Kicking off the album is "Start Again," a song about new beginnings and living in "the now," a theme which runs through the whole album. The soaring slide guitar by Robert Mache suggests endless possibilities and the danger one might encounter with any new journey. Sometimes an empty page can be a scary thing.
"Beaumont" is a true story though the name of the town has been changed to protect the guilty. The biggest production on the record, this tale is told over a cinematic sonic soundscape with lush backing vocals by Candace and Robert Mache.
"Sort It All Out" could have been recorded in 1973 but manages to stay in the present with the immediacy of its message. Pounding drums and bass by James Cunningham and Tom Arndt match the intensity of the song's meaning. The addition of gang vocals and handclaps makes for an instant classic.
The most heartfelt composition on the album, "All That Matters" is that rarest of things; a love song with no Get Out Clause. The commitment expressed in the lyrics sits on top of a perfect power ballad arrangement with exquisite backing vocals by the band.
This collection as a whole places Dan Montgomery on a level with not only the best Americana singer-songwriters but classic rockers as well. And it happened instinctually. "It's amazing what holding the right electric guitar in your hands at the right moment can do," says Montgomery. "The music definitely came through me on this one." Montgomery plans on a full band tour to celebrate these songs in June.